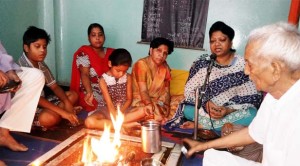 Bangalore: Bharat's Mars Orbiter Mission will enter the red planet's atmosphere on September 24. But before that, Indian Space Research Organisation needs to test fire the main engine today i.e. September 22, 2014, which has been in sleep mode for 10 months.
The team of scientists at ISRO's control room will be the first to get signals from the Mars Orbiter Mission. It was a nail biting 10 hours for the team when the spacecraft suddenly lost contact for a few hours in November 2013. But now, they are ready to see it enter Mars' orbit two days time
V Koteshwara Rao, Scientific Secretary of ISRO, "Of course anxiousness will be there, but at the same time I would like to say we are not tensed up."
The scientists will have to switch on an engine that has been on sleep mode for ten months. And to ensure a hitch-free operation, ISRO scientists have replicated the Mars craft and subjected it to the same conditions of space and Mars, right here on Earth.
S Arunan, Project Director of Mars Orbiter Mission, "We have done a test on the ground with similar hardware that is subject to all the Mars Orbiter Mission spacecraft conditions and it has been kept in the storage for 300 days. We fired it last week and the performance is as per predictions."
It was a spacecraft that cost less money to build than the making of sci-fi film 'Gravity. As Prime Minister Narendra Modi famously said at Rs 450 crore, ISRO's Mars craft was easily one of the most cost-effective spacecrafts in the world for inter-planetary exploration. While ISRO prides itself on being the budget player in this, it's also looking at collaborating with world players on data and analysis of experiments on Mars.
Even NASA's Mars mission Maven will also reach the red planet around the same time as ISRO's and preliminary efforts are on for a joint working group. But for now Bharat waits to take the 224-million-kilometre leap that will hopefully make it the first Asian country to reach Mars in the first shot.