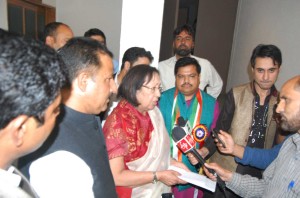 Srinagar. Referring to her decade old close relation with Kashmir, Dr. Najma A Heptullah Union Minister For Minority Affairs, assured the hope of Kashmir that the development specially in the field of education will be taken care of by the present Union Govt. She enthused the youth of Kashmir to take advantage of different schemes and opportunities launched by the union monastery for minority affairs.
She was speaking at the 57th One Day Peace Conference which was held at SKICC, Srinagar organised by Jammu And Kashmir Peace Foundation on the eve of 68th. Independence Day. In continuation of efforts for bringing peace in Kashmir Jammu and Kashmir peace foundation has been holding such conferences every year on national days for the last 20 years. This conference carried significance as it was chaired by Dr. Ramjethmalani Member of Parliament (Chairman Kashmir Committee). Dr. Najma Haptullah, Union Minister for Minority Affairs representing Govt. of India also participating as Chief Guest. Among other important guests of honor representing different sections of the society and community such as Hafeeza Muzaffar (President JKPF), Girish Juyal (National General Secretary JKPF), Farooq Rinzoo Shah (Chairman Kashmir Society), Ab. Rashid Kabuli (Ex. M.P.), B. Lateef Bukhari (Mirwaiz Central Kashmir, President  Ulmah Fourm JKPF), K.N Pandita (President Jammu and Kashmir Study Centre).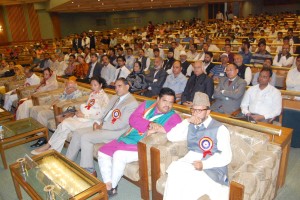 This conference was commenced with faith prayers of various religions before ceremonial lightening of lamp. In his welcome address Fayaz Ahmad Bhat, Chairman Jammu and Kashmir Peace Foundation emphasized a need of taking the process of bringing peace in Kashmir valley further and strengthening of communal harmony. Fayaz Ahmad Bhat said J &K Peace foundation is a non-political platform whose biggest objective is to usher peace both at the regional and global level and calls for everybody to lend cooperation to their noble cause. In his speach Fayaz Ahmad Bhat specially thanked Governor Shri N. N. Vohra for his keen interest for establishing lasting peace and normalcy which would pave the way for rapid all round progress and a bright future for the State and patronage to our organisation. His praiseworthy efforts in ensuring full support to our Peace Movement. He is a person of great values and a towering peace personality.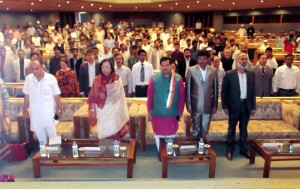 J & K Peace Foundation addressed the prominent speakers expressed their hopes for giving a new dimension to the peace process and friendship between India and Pakistan in present scenario where India is headed by a dynamic Prime Minister who is keen to resolve various issues with Pakistan including Kashmir matter.
Shri Girish Juyal, National General Secretary JKPF speaking on the occasion, congratulated the JKPF for organizing such Peace Conference. He added that sustained peace ushers in an environment of peaceful co-existence and strengthens secularism.
Dr. Ram Jethmalani, Member of Parliament, Chairman Kashmir Committee in his presidential address, said that his only desire is that Kashmir issue should be resolved peacefully and amicably during his life time. As Chairman Kashmir Committee, he said that the need of the hour would be to come together for bringing peace to the subcontinent which would in turn be proved as a gift for the youth of the region in future. He emphasized on involvement of youth in nation building at carve a role for them in order to add to the dignity, honor and prosperity for the coming generations. He admired the statement of Shri Narendra Modi Hon'ble Prime Minister of India for following the steps of Shri Atal Bihari Vajpayee, Former Prime Minister of India in respect of the efforts for bringing peace in the region. He also admired the effort of Jammu and Kashmir Peace Foundation for getting together with different communitie and sections of the society.
There were considerable numbers of youth in audience who admired and applaud the efforts being made by Dr. Ram Jethmalani in bringing peace in the valley. Some youth went to the extent asking Dr. Ram Jethmalani as to how hopefull he was in taking further the process of dialogue after his meeting with separatist leaders, while reacting to this question Dr. Ram Jethmalani expressed his hope that a new era of change has began, the conference was concluded at a good note as a group of young artists presented a skit and a prayer song which touched the hearts of the audience. The prayer song made Dr. Ram Jethmalani so emotional that he gave away an amount of rupees one lac. To the young artists as a token of affection which was lorded applauded by the audience.
Dayanand Chandoola Chairman P I O C C I presented a Vote of Thanks. Among others who spoke on the occasion included Dr. Rattan Sharma President Rajasthan Chapter JKPF, Prof. Kh. M.D. Ekram-ud-Din Director NCPUL and other dignitaries. The Peace Conference commenced with an impressive all faith prayer for peace. A cultural programme based on the composite cultural heritage and communal harmony of the state of the State was presented on the occasion by the students of various educational institutions.
The Chief Guest presented awards to a number of prominent peace activists who had rendered valuable services, in the memory of G. M Rajpuri, Qazi Amanullah, Dr. S Jalal, M. A Tantary & Abdul Aziz Zargar on the occasion. The Minister was honoured by the Foundation in recognition of his contribution for the restoration of sustained peace and normalcy and for encouraging initiatives aimed at promoting communal harmony and brotherhood. A large number of functionaries of the Foundation, prominent social and political activists and a large number of people were present on the occasion
A special meeting was held at Hotel Taj which was presided over by Kashmir Committee Chairman Mr. Ran Jathmalani, along with the members of the Committee including Mr. Sultanpuri, Khwaja Farooq Renzushah, Mr. Fayaz Ahmad Bhat and Mr. Waheed Ahmad were unanimous on the issue that all endeavors should be made to strengthen the Indo-Pak friendship, people to people contact and create the amicable situation in J&K so that foundations of the Peace are laid forever.
Mr. Shekhar Choudhury (President Jharkhand Chapter JKPF) Representing Jaharkhand State, in his speech he emphasised Peace through the medium of education and sports.