Kerala (VSK).
K.T. Jaleel was in news during August, 2022 when his FB post called Jammu & Kashmir as "India-Occupied Jammu & Kashmir" and Pakistan-Occupied Kashmir as "Azad Kashmir", the terms coined and always used by Pakistan and pro-Pak and anti-Bharat forces. A case was registered against him in this regard.
Those days, BJP had charged that Jaleel's FB posts were against the sovereignty of the country.
His latest FB post seems to be indirectly tending to whitewash the culprits of Elathur train fire case and Kannur train fire case. His FB post of June 3 wonders if Shahrooq Saifi and Prasonjith Sikdhar were tools to create "Godhra" for making Kerala another Gujarat. He suspects a drama, prior to the Lok Sabha, elections in it. He asks if the Kannur Train Fire culprit is a follower of Uma Bharati or if he reads Vicharadhara (Malayalam version of Bunch of Thoughts). He asks where is the 'brave' soul who called for his (Jaleel's) exile. It looks like he refers to the protest arose when he described, in his FB post, PoK as 'Azad Kashmir' and Jammu & Kashmir as 'Indian-occupied-Kashmir.' And, he appears to be trying to establish that Shahrooq Saifi and Prasonjith Sikdhar are stooges of RSS and BJP forces.
He said, in his FB post on June 1, that 'Fascists aim at large scale communal polarisation prior to Lok Sabha elections, because, then only they can capture Kannur and Thrissur parliamentary constituencies which are Left Forts'. He says, when the 'first attempt' in Elathur (Kozhikode) failed, luck was again tried in Kannur. For him 'fascist' means RSS, BJP or Modi regime. He says, 'Sangh Parivar' will go to any extent for defeating LDF (CPM-led Left Democratic Front). He says, they try to 'create a Godhra' in Kerala for communal polarisation and bag political gains. Then he refers to few incidents, occurred in different parts of the country, to blame Sangh and Sangh-inspired organisations.
The aforementioned FB post underline the fact that despite facing sharp criticisms for his earlier FB posts, which were against the interests of the country and which were highlighting his usual communal stand, he still carries and propagates the same sentiments which he allegedly used to have during his early avatars in Indian Union Muslim League (IUML) and Student Islamic Movement of India (SIMI). After joining LDF as a CPM fellow traveller, he got more legitimate opportunities to propagate his original thoughts as an MLA and a minister, thanks to CPM's minority vote bank politics. He had to resign from the cabinet when allegation came up against his nepotism. It was in the light of the Lok Ayukta order in connection with the appointment of a relative of him.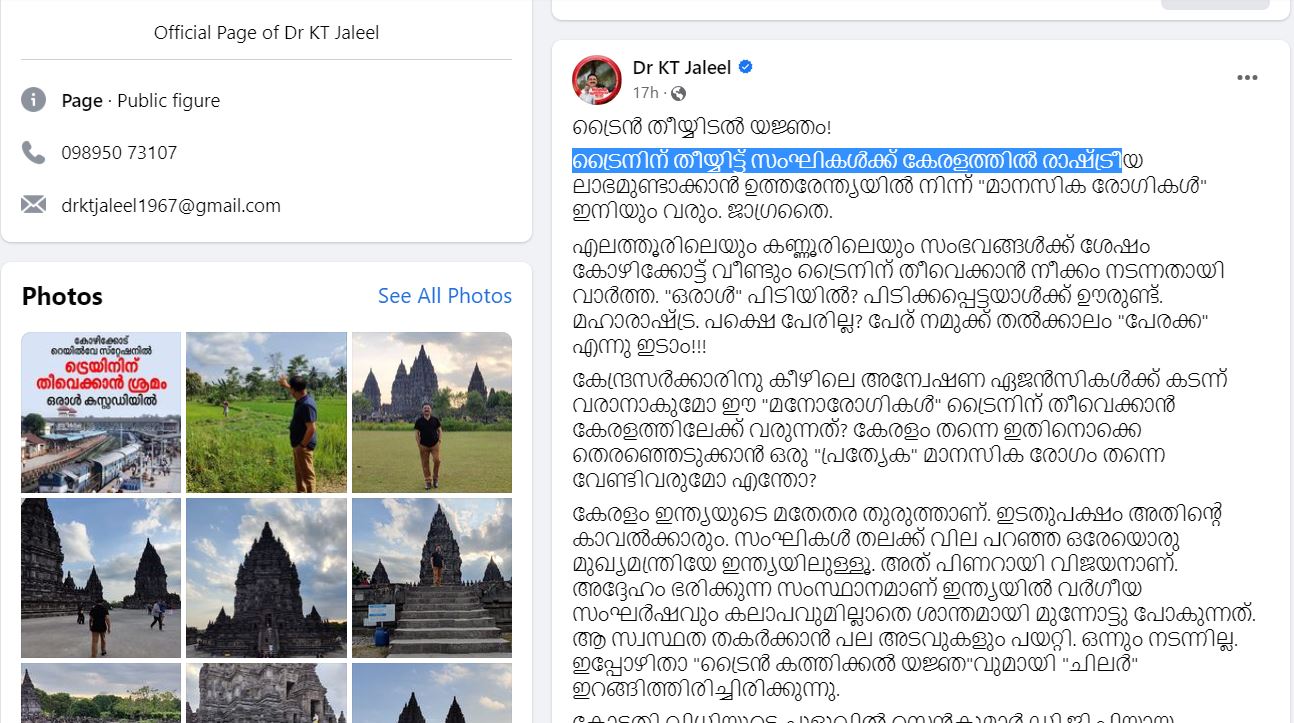 https://www.facebook.com/photo/?fbid=809805267168195&set=a.288485439300183