Chennai. Senior Supreme Court Lawyer, former Attorney General, and a sincere devotee of Lord Ram, who brought logical end to Ram Janmabhoomi case K. Parasaran was honoured with Dr. Hedgewar Pragya Samman in a function organized by Sri Barrabazar Kumarsabha Pustakalaya in Chennai today. Sridhar Vembu, CEO and Founder ZOHO presided over the event.
RSS Akhil Bharatiya Karyakarini Sadasya Suresh Joshi Ji, General Secretary of Shri Ram Janmabhoomi Tirtha Kshetra Champat Rai Ji were present. Tax Consultant Sajjan Kr Tulsyan was the special guest of the event.
Champat Rai Ji in his speech, highlighted on how the proceedings of the 5000-year Shri Ram Janmabhoomi case went on. The victory is the victory of our Hindu culture and it is not a fight of temple. It is the pride of Hindustan.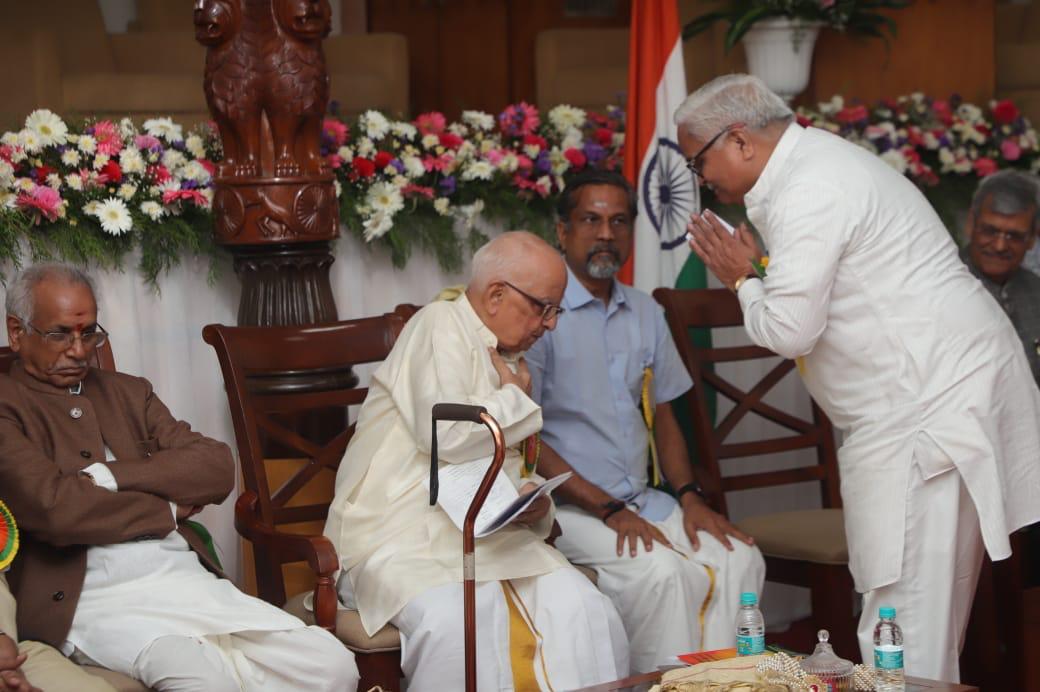 Suresh (Bhaiyya ji) Joshi Ji in his address highlighted the similarities found in Parasaran Ji with Dr. Hedgewar. The honour today given to Parasaran Ji is not of age, or loyalty or as a senior person, but ONLY for his devotion to the Hindu Culture and Bhagwan Ram. Hindus memorize of Keshav and awardee is also Keshav Parasaran. They showed the path, laid road map for the nation. Parasan Ji is not a person waiting for opportunity, his surrender to the society, to bring a change, instil confidence to society, he was mentally prepared from the bottom of his heart and brought back the pride of our culture. He never took the pride of his success and felt that he is always a tool to fulfil the wish of Lord Ram.
K. Parasaran Ji in his speech said how Champat Rai Ji contributed with supporting documents while arguing the case. He felt humbled with the praise showered on him. It is the Sankalp of Bhagwan Ram itself, and the persons are chosen by God itself for Ayodhya case. He felt humbled and sought sadan blessings.
Sridhar Vembu thanked Parasaran Ji on his service to the nation and Bhagwan Ram. He said that he is trying to create a computer language connecting law with software functions.
Programme began with an invocation song and ended with the vote of thanks.