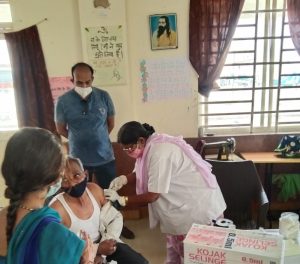 File Photo
Kangpokpi. Kalapahar and Santolbari Parsain in Kangpokpi Assembly Constituency have become the first two villages to get fully vaccinated in the district and the third in Manipur after Robve Solephe vilĺage in Senapati and Pearsonmun viłlage in Churachandpur.
All eligible persons in 540 households under Kalapahar comprising of five villages were already vaccinated with the second dose while all eligible persons in 370 housdholds under Santolabari Parsain comprising of eight villages were also vaccinated up to the second dose.
The declaration of Kalapahar and Santolbari Parsain as fully vaccinated villages was made by the local MLA Nemcha Kipgen in the presence of Somorjit Salam, IAS, Deputy Commissioner Kangpokpi, Dr Pilhing, MO, PHC Kalapahar and others.
Nemcha Kipgen said that to vaccinate all the eligible people under Kangpokpi AC extensive efforts and struggles were made while seven Covid Task Force had been constituted to work together with the Medical Department and the District administration.
Deputy Commissioner Kangpolpi Somorjit Salam, while lauding the contribution of the people of Kalapahar and Santolbari Parsain appreciated the dedication and hard work of the medical team and CTF Kalapahar and Santolbari Parsain. He said that Kalapahar and Santolbari Parsain were the first villages seeking vaccination among few others when hesitation for vaccination was its peak among the people and their enthusiasm for vaccination has now paid fruitfully and added "We are proud of them."
He said that Charhajare villege in Saitu AC will also be soon declared as fully vaccinated village while adding that all these villages will be an inspiration for all other villages to get vaccinated.