Katappana, Kerala (VSK). SFI workers on November 2 locked Katappana Government College Principal Dr. V. Kannan in his cabin demanding to lift the suspension of their leaders. He was locked in around 1030 am and set free by 4.30 pm. The ridiculous sort of agitation was in protest against the suspension of College Union Chairman K.B. Jishnu and SFI worker Ranjith.
Last week SFI leader Hasan Mbarak and his comrades had stormed into the office of the principal of Maharaja's Technological Institute (MTI), Thrissur, and threatened the principal-in-charge to break his knees. Katappana incident comes close on the heels of Thrissur MTI incident. The lady teacher in-charge of the hostel had demanded explanation, on October 28, when two girls returned to the hostel later than the stipulated time.  Jishnu and Ranjith came to question this and showered abuses on the lady teacher. Consequently, both were suspended until November 10. Despite the intervention of Katappana Police, staff council met and declared that the suspension would not be withdrawn. When principal tried to go out after the meeting a minor skirmish took place between the protestors and the police.
Discussion took place again and the suspension was reduced to five days. Then only principal was set free to go out. PTA Executive is expected to meet soon to discuss the matter. Despite the principal's captivity for several hours, college authorities still have not lodged any complaint.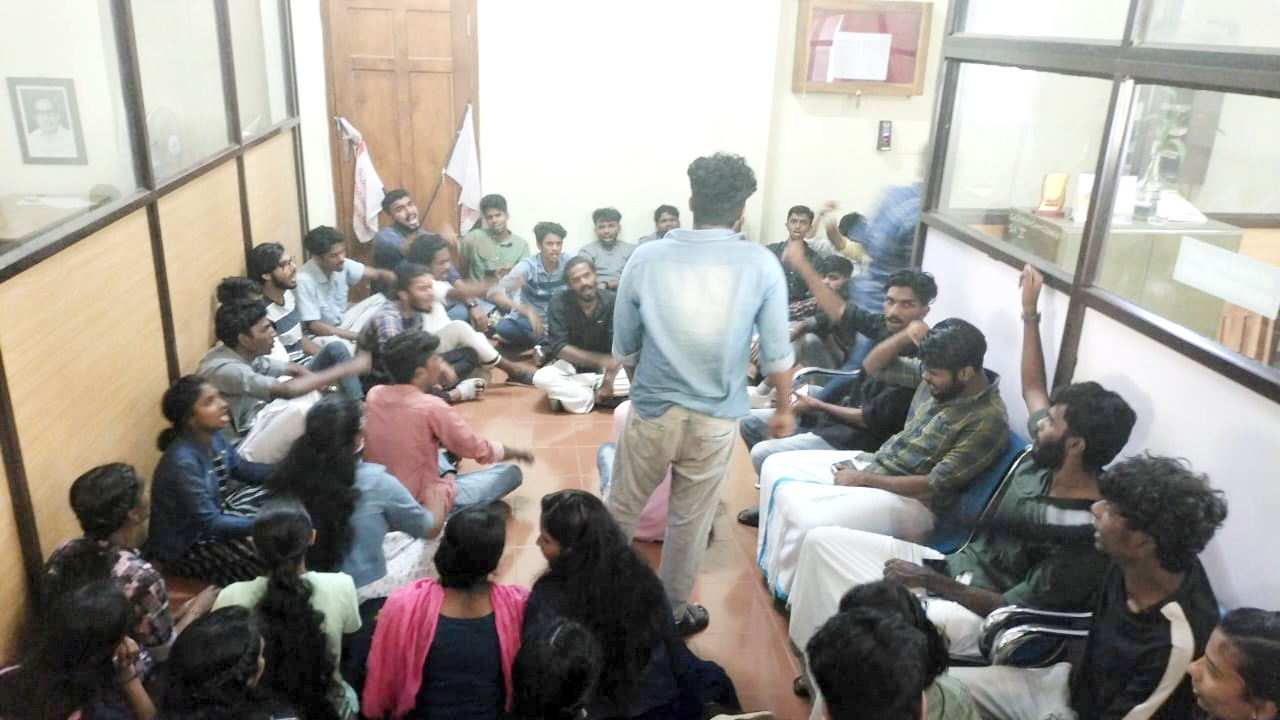 Picture – SFI men sits outside while the Katappana College Principal is locked in the cabin.