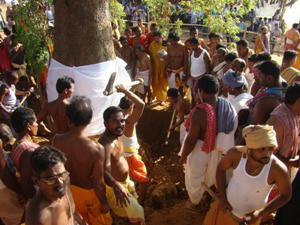 Odisha, (VSK). The giant neem tree identified as the daru (neem tree with divine signs and special attributes) for the carving of the new idol for Lord Sundarshan finally fell on the ground in the Ishanya (North-East) direction at 9:02 PM On Friday evening with the chants of Jai Jagannath, Hari bol, ululation, beats of mridangas and cymbals in the presence of thousands of devotees in this village on the outskirts of Odisha capital.
The felling of the daru began at around 4 PM on Friday after completion of purnaahuti at the mahayagna – the ritual that transformed it tomahadaru, the timber out of which the earthly body of the Lord Sudarshan will be carved, to be later infused with the brahma of the Lord.
The felling of the daru started after performance of a secret ritual by Daitapati servitors at its base. The Vidyapati then touched it with a golden axe, followed by Biswabasu with a silver axe. On completion of the token touching with gold and silver axes, Biswakarma (carpenter servitors) began felling the daru with iron axes after removing the soil from around it.
On falling of the tree to the ground, the Daitapatis, stotriya Brahmins and others in the Banajaga team, who were on a nirjala (without water) fast since Wednesday night, had havisyanna (a specially cooked vegetarian meal) for their dinner.
The trunk of the felled tree is likely to be carried to Puri in a sagadi (wooden cart with four wheels to be made on Saturday out of either tendu, banyan or tamarind wood) to be pulled by devotees using specially made silk ropes prepared by Patera Bisoyi servitors.
Earlier in the day, stotriya Brahmins chanted Patala Narasimha mantras and offered oblations to the sacred fire of the mahayagna while Daitapati sevayats chanted the same mantra and other mantras at the Sabarapalli (the camp where the Daitapatis were camping).