People in Ladakh region are celebrating Ladakhi New Year, Losar with festive fervor. Laddakh Lieutenant Governor RK Mathur participated in the celebrations, organized by the Laddakh Buddhist Association and Leh Hill Council, in Leh.
Speaking on the occasion, he said Ladakh is made Union Territory with an objective of protecting the culture, tradition, ecology and economy of the region. He said, as UT Ladakh will be the Crown of the country.
This is first Losar Laddakh Region celebrating as Union Territory. Daring the minus 20 degrees temperature in Leh, People have gathered at Chokang Vihara for Losar celebrations in traditional attrire.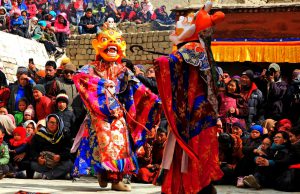 Celebrations began with a pooja for world peace and brotherhood. LG paid homage to Buddha Dharma.
He also hoisted the Traditional Flag, Tarchen to mark the beginning of New year. Artists from various parts of Laddakh region performed Cultural programmes and traditional events relating to Losar.
As Union Territory, this year Losar is special even after realising the dream of 70 years and several sacrifices. People and administration took pledge for the over all development of Laddakh region on the Losar.