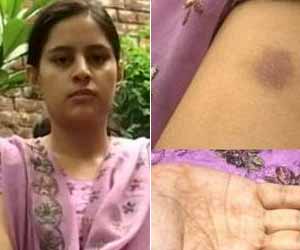 Ranchi. Police swung into action after Tara Shahdeo, a national level shooter accused her husband Ranjit Kohli, alias Raqibbul Hussain of torturing her for refusing to convert.
The VHP has called a bandh today i.e. Aug.25 to protest against the incident citing it a case of 'love jehad'. Most of the schools would remain closed due to the bandh call.
Promising tough action against Hussain and his family members, the police launched a massive search operation in and around the city as they are absconding ever since an FIR was filed for torturing and forcing her to change her religion.
Police formed two teams to nab the accused after it sealed a flat situated at Blare Apartments where Hussain used to live with Tara and a few other properties  belonging to him. Five vehicles belonging to Hussain were also towed away by the police on Sunday."A search operation is on to arrest Hussain and his family members. So far the police have sealed the flat in Blare Apartments, five cars and a house belonging to Hussain," said Anup Birtharey, SP City.
Sharing her ordeal Tara Shahdeo told the media that she  married Hussain in July. They fell in love after a common friend introduced her to Hussain."I did not know that he was a Muslim as he gave his name as Ranjit Kohli.
Few months of our marriage he and his family members started pressurising me to change my religion and marry as per Islamic customs again to him. I was denied food, water and any access to outside world. When I did not succumb they tortured me brutally and threatened me of life," she said.
She has also alleged that Hussain has done similar atrocities with several other girls by luring them for getting admission in colleges or jobs. She also has suspected about a big racket involving some big names in the field of politics and administration which was indulge into religious conversion and trade.
Tara also narrated her ordeal to State Women Commission chairperson Mahua Majhi and BJP leader Ajay Nath Shahdeo who had assured her all the support required.Tara in her complaint to the police has alleged that Hussain not only used to beat her brutally but also threatened that if she would not accept his demand to convert into Islam then he would disfigure her face. Residents of the apartment where Hussain used to live in are also feeling vindicated as they were said to be puzzled with his character and conduct. "We were suspicious to his activities. He had made huge money without doing anything substantial," said a flat owner at Blare Apartment.
Terming it most inhumane incident the BJP leader Ajay Nath Shahdeo appealed to the State machinery to conduct a high level inquiry into the case. The SWC chairperson Mahua Majhi had also demanded the same.This apart, VHP has also called a bandh on Monday to protest against the incident citing it a case of 'love jehad'. Most of the schools would remain closed due to the bandh call.