Love Jihad and role of Islamic radicals apparent in the murder of Tamil Nadu BJP worker Vijaya Raghu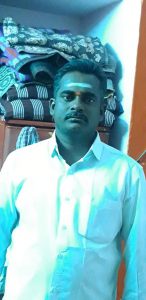 Tamilnadu (VSK). One more CAA supporter belonging to Dalit community was hacked to death in Trichy in Tamil Nadu allegedly by Muslim goons. But the opposition which has been vociferous in the revocation of the CAA, has turned nelson eye to the killing. The hand tied state police machinery is learned to have passed it off as yet another case of personal enmity.
Vijaya Raghu (40), a zonal secretary of BJP Trichy Palakarai, was working in the market area when a group of the assailants surrounded him and killed him before fleeing the scene. Raghu, a resident of Pensioners Lane in Varaganeri area, worked in a cycle stand, issuing tokens. Police said he was attacked at around 5.30 AM on 27th by two people with sharp weapons causing grievous injuries. Raghu was rushed to Mahatma Gandhi Government Hospital but succumbed to injuries a couple of hours later.
On hearing the murder, BJP cadres protested in front of the hospital demanding the arrest of the accused involved in the killing. They said Raghu was actively canvassing for the Citizenship Amendment Act and was a known target for the Islamists. Meanwhile, police have set up special teams to arrest the culprits who are still at large. A team has left for Tiruvarur and another to Perambalur in search of the murderers.
Gandhi Market police are on the lookout for Mohammed Babu alias тАШMittaiтАЩ Babu and his associate in connection with the murder. Police investigated the CCTV footage to establish the identity of the culprits. Mohammed s/o Hussain Mohammed works as a daily wage labourer in Gandhi market and also as a lottery agent. Police claimed that Vijay RaghuтАЩs daughter and Mohammed were in love. It has also come to notice that there were already several cases pending against Mohammed.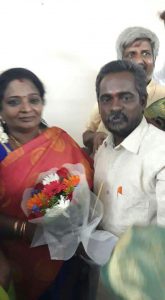 Raghu was living with his wife and daughter Gayathri (17) and was a active member of BJP for 20 years. Sources in BJP say that complaints were registered by Raghu against Mohammed in 2017 and 2019 for trying to appropriate his minor daughter and a case of Love Jihad was suspected for long. It was due to his complaints, Vijaya Raghu was threatened by Mohammed and two unsuccessful attempts on his life were made twice in 2017 and 2019 say BJP sources. Mohammed, it is learnt, was earlier charged in a case for assaulting Vijay RaghuтАЩs brother-in-law and had come out from the prison only a few days ago.

The police FIR has cleverly avoided mentioning the culprits real name and uses his alias. Mohammed was also arrested for raping a minor girl earlier but strangely no case was made under POSCO and was subsequently released. It seems that the state police are even afraid to arrest people from this particular community. The killer Mohammed was also a ganja addict and indulged petty crimes.

Role of Islamic radicals

Raghu was also threatened by SDPI cadre for his active role in BJP. BJP sources say that Vijaya Raghu could have been murdered by the Islamist organisation with the help of Mohammed. They say that on 26th December, 2019 some Muslim organisations had protested against CAA along with members of SDPI. On hearing this, Vijaya Raghu had organised a rally and house-to-house campaign in favour of CAA.

Agitated by his pro-CAA campaign, the Islamists could have used Mohammed to attack and murder Vijaya Raghu say BJP sources. BJP state vice president Subramaniam said that Raghu was killed for actively participating in support of the CAA. He said Raghu was a Dalit and was killed by Muslims. Had it been otherwise of in a BJP ruled state, the tukde-tukde gangs would have made a big noise. "Will they come out condemning the gruesome killing of Raghu, a Dalit?", asks Subramaniam.

/?php if(of_get_option('disable_share') != true) { ?> /?php echo mom_single_share(); ?> /?php } ?>
About The Author
Related posts
Leave a Comment