Lucknow. Love jihad is not a communal issue, but a shameful act, as it hurts the dignity of women. Therefore the administration should take a serious view of it," said RSS Sarkarayavah Shri Bhaiyaji Joshi while talking to mediapersons in Lucknow on October 19, after the conclusion of the RSS Akhil Bharatiya Karyakari Mandal meeting. Around 390 delegates representing 41 prants, 11 kshetra and 33 organsations participated in the meet. During the meeting, the prant level office-bearers presented their activity report and described their special programmes. About 33 allied organisations also submitted their reports.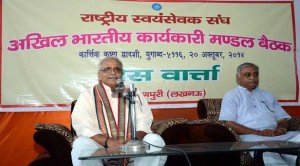 Shri Joshi said there could be several critical remarks against the RSS but they are not worried about it, because people love us and support us. He claimed that criticism of the RSS does not stand as more than 1.25 lakh youths have joined the organisation last year. Reiterating RSS ideology on Hindutava Joshi made it clear that the organisation continues to apprise majority community of their rights and duties. "We are not anti-Muslims. Whoever wants to join RSS is free to do so and there is no disparity on the name of religion or caste," he said.
The Sarkaryavah said, Sri Ram Temple already exists in Ayodhya and people worship there on daily basis. The only thing is to construct a grand temple. Since the matter is in the Supreme Court, the Centre should try to remove the hurdles and fulfill the promise made to the people, Bahiyyaji said. However, he praised the BJP government at the Centre for the recent decisions, adding that the decisions are always taken by the BJP leaders themselves, and the RSS never interferes in any political matters. We only want a change in the governance because the last government was very corrupt. So we worked for 100 per cent voting, even though we did not achieve the target.