Madan Mohan Malaviya strove to materialise his vision about future Bharat – Dr. Mohan Bhagwat Ji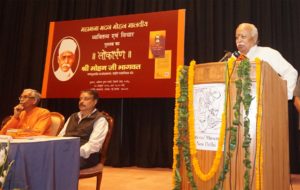 New Delhi. "Mahamana Madan Mohan Malaviya was a visionary who even while fighting for the freedom had a clear picture of the future Bharat and his every step was directed towards materialising his vision about future Bharat. He left his imprints not only in politics and journalism but also in social reforms. He was a guide and philosopher, and his views were received very attentively, but he never imposed his views on anybody," said RSS Sarsanghchalak Dr. Mohan Bhagwat Ji while releasing a book on Mahamana Malaviya on October 03.
The book, "Madan Mohan Malaviya : Vyaktitva va Vichar", has been written by Balmukund Ji. The National Book Trust has published it.
Highlighting the personality of Mahamana, the title that was given to Pt. Madan Mohan Malaviya by Gurudev Rabindranath Tagore, Mohan Bhagwat Ji further said that despite being on top of popularity, his humility impressed everyone. "The young generation needs to imbibe all such qualities in order to live a meaningful life. He lived for the society and the nation and did nothing for himself. It was because of the values that he inherited from his family and also because of the sadhana of his previous life. The nation is still enjoying the fruits of his sadhana in various forms. The social reforms, particularly the fight against untouchability that he pushed forward, has helped the nation to curb this bad practice to a great extent. Making the society as per his dreams is the real tribute to such a great personality today," Bhagwat Ji said stressing the need that maximum people should read the biography of the great personalities like Mahamana. He also referred to the meeting of Pt. Madan Mohan Malaviya with RSS founder Dr. KB Hedgewar.
Presiding over the function Prof. Satish Mittal said the cow, Ganga and Gayatri were inspirations for Mahamana and despite touching new heights in the life his words, deeds and dress remained unchanged. "He was a journalist and a teacher par excellence. His every word proved to be a 'sanjivani' for the youth in those days. As a Barrister also, he accepted only those cases, which were genuine and he never defended anyone in false cases. As a social reformer also, he tirelessly worked to eradicate untouchability and exhorted even the so-called upper castes to behave with respect with all sections of the society. He never hesitated to beg for the social cause. His 1916 speech was so much inspiring that it motivated countless youth to work for the nation and the society. He was of the firm opinion that unless the Hindu society is united, this nation cannot move forward in the desired direction," Prof. Mittal added.

NBT Chairman Baldevbhai Sharma said the NBT is privileged to publish the life sketch of a great patriot. He apprised the audience of the new steps that the NBT has taken in the recent years. In the beginning, Director General of National Museum Dr. BR Mani welcomed the gathering.

Noted historian and president of Akhil Bharatiya Itihas Sankalan Yojna Prof. Satish Mittal Ji, general secretary of Itihas Sankalan Yojna Ishwar Vishwakarma Ji, Chairman of NBT Baldevbhai Sharma and Director General of National Museum Dr. BR Mani also shared the dais. Many other eminent personalities including the national organising secretary of Akhil Bharatiya Vidyarthi Parishad Sunil Ambekar Ji were also present on the occasion.

/?php if(of_get_option('disable_share') != true) { ?> /?php echo mom_single_share(); ?> /?php } ?>
About The Author
Related posts
Leave a Comment