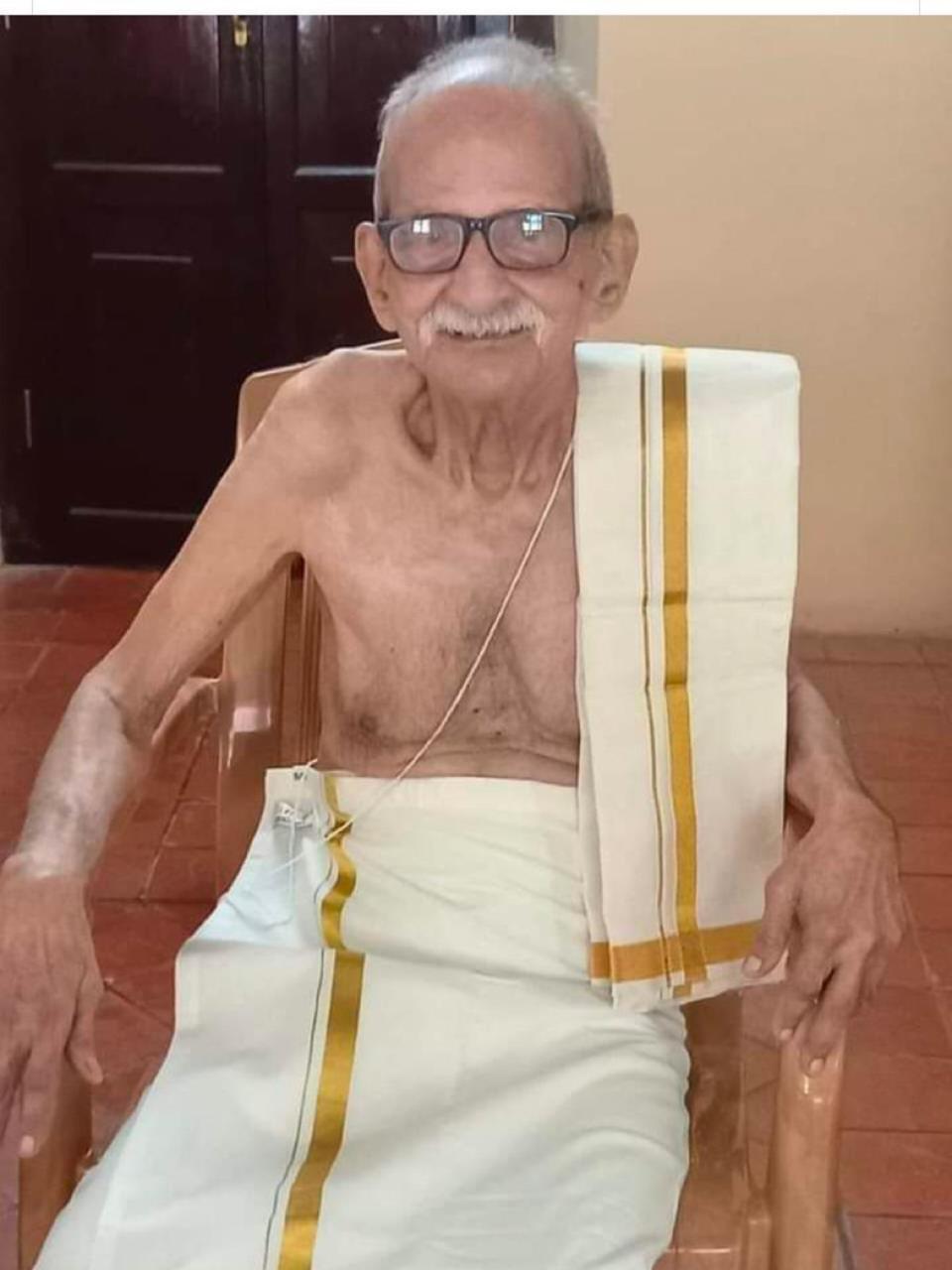 Thiruvananthapuram
Revathi Thirunal P Rama Varma Raja, Maharaja of the Pandalam royal family, passed away. The 103-year-old royal breathed his last at Ananthapuram palace in Haripad on Wednesday at 10 pm.
Rama Varma Raja was anointed as the Maharaja (Valiya Thampuran) of the Pandalam royal family 19 years ago, following the demise of the then senior-most member of the family Ravi Varma Raja.
His wife Rukmini Varma Thampuratty passed away in 2017. He is survived by four children.
Born on October 19, 1919, Rama Varma Raja completed his graduation from the erstwhile Travancore University, (presently Kerala University). An ardent lover of cricket, Raja had played for the university cricket team as a spin bowler during his college days.
Being the 'father of Lord Ayyappa, the presiding deity of Sabarimala temple, Rama Varma Raja used to hand over the ceremonial sword to the royal representative escorting the 'Thiruvabharanam' (sacred jewellery) procession, which starts from the Pandalam Valiyakoickal Sastha temple to Sabarimala for the annual 'Makaravilakku' festival.
Traditionally, the Raja of Pandalam is revered as the father of Lord Ayyappa of Sabarimala. The Pandalam royal family has a significant role to play in the customs and rituals of Pandalam Valiya Koikkal and Sabarimala temples. However, the Raja aka Valiya Thampuran never goes to Sabarimala as it is believed that his son, Lord Ayyappa remains in Samadhi in the shrine. For the same reason, the royal family members do not stand right in front of the sanctum sanctorum of the Sabarimala temple.
RSS Sarsanghchalak and Sarkaryavah expressed grief
Saddened to learn the demise of Maharaja of Pandalam Royal Family, Revathi Thirunal P Rama Varma Raja, revered as the Father of Lord Ayyappa, the deity of Sabarimala. His guidance has been a source of inspiration for Ayyappa devotees across the world.
Praying for his Sadgati
Dr. Mohan Bhagwat, Sarsanghachalak
Dattatreya Hosabale, Sarkaryavah
Rashtriya Swayamsevak Sangh (RSS)
Prajna Pravah National Convenor J Nandakumar, Union Minister L Murugan, Tamil Nadu BJP president K Annamalai, and Achara Samrakshana Samiti President Prithvipal expressed condolences over his demise.
In a condolence message, Prajna Pravah national convenor Shri J Nandakumar said that Valia Thampuran stood steadfast in his commitment to preserving spiritual values and traditions. His moral guidance to the royal family and the devotees steered clear of the storm during the Sabarimala agitation, when the age-old Sabarimala traditions and practices were challenged.