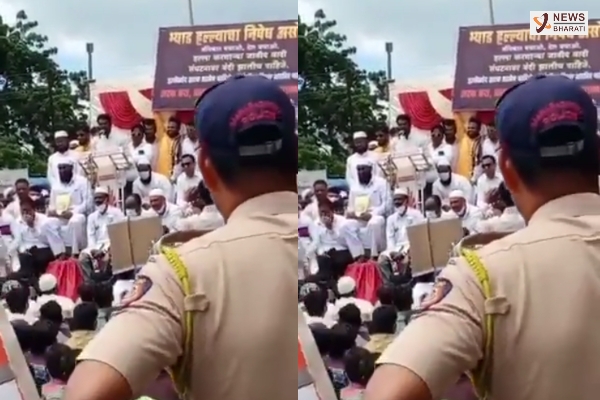 Mumbai (VSK). While in the state of Maharashtra, the government led by Shivsena's Uddhav Thackeray has imposed section 144 in order to restrict the celebrations of Ganeshotsav, there is no action being taken by the authorities to restrict huge rallies that verbally are assaulting the RSS, and the Hindutva.
In a video happened to be shared by Flt Lt Anoop Verma (Retd) today, a massive group of people are seen blatantly smacking the RSS community. "We respect the constitution. But these RSS people are no way to be respected. We all will teach them a good lesson", said MLA from Nanded (name as heard in the video).
Maharashtra Police is also seen in the video listening to the speech and doing nothing when the crowd consisting of some Muslim men are seen roaring in support of the speech. The hatred of people towards RSS though mistaken, is no new these days. Earlier this week, poet, lyricist Javed Akkhtar had compared the organisation to the Taliban.
Ganeshotsav is restricted in Maharashtra but Anti RSS rallies aren't

New Low pic.twitter.com/vWPCbmlVIV

— Flt Lt Anoop Verma (Retd.) 🇮🇳 (@FltLtAnoopVerma) September 12, 2021
In such a situation, no legal steps being taken by the Maharashtra government is a bit surprising. Uddhav Thackeray Sarkar seemingly has taken U-Turn from Hindutva ideology after it imposed Section 144 in Mumbai & Pune ahead of much awaited festival of Ganeshotsav.
Municipal Councillor, BJP, Mulund, Mumbai Neil Somaiya had taken to twitter to share this information, also criticising the Uddhav Thackeray led government of its 'Hindutva policy'.
Input Courtesy – NewsBharati