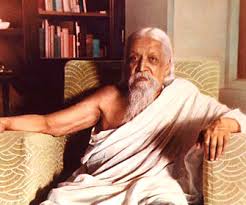 Sri Aurobindo (August 15, 1872-December 5, 1950) was a great scholar, mystical poet, yogi and an aggressive Bharateeya nationalist. He was actively involved in the politics of Bharat. He is well known for his incredible contribution in the freedom struggle of our country. He came up with an entirely new system of spirituality. He called his pathway to spirituality the 'integral yoga.
The basic objective of his teachings was to increase the level of consciousness of people and make them aware about their true self. His literary works include the writings on varied subjects like the Bharateeya  culture, socio political development of the country, spirituality etc.
Sri AurobindoLife
Sri Aurobindo was born as the son of Dr K. D. Ghose and Swarnalata Devi. Dr Ghose on the 15th of August in the year 1872 in Kolkata. He was named Aurobindo Akroyd Ghose. His parents wanted his upbringing to be in the European style. So, they got him enrolled in the Loreto Convent School at Darjeeling.
When he was seven years old, he was sent to England for the completion of education. He did his schooling from St. Paul's School in London and graduation from King's College, Cambridge. Side by side, he learnt several foreign languages like Greek, French, Italian German, Latin, and Spanish. He came back to India when he was 21 years old.
At the time of partition of Bengal, during the period between 1905-1912, he leaded the group of Indian nationalists. Later, he became the editor of a nationalist Bengali newspaper named Vande Mataram.
From politics to spirituality
As time passed by, Sri Aurobindo began losing interest in politics and started concentrating on spirituality. He came across a yogi named Vishnu Bhaskar Lele, who showed him the path of Hindu practice of yoga. He went into the state of deep meditation for a period of four years in Pondicherry. Then, he launched a 64 page monthly review "Arya". In the year 1920, his close spiritual collaborator named Mirra Richard joined him. She was more popularly known as 'The Mother'. It is in the companionship of the Mother that Aurobindo Ghosh came up with the idea of establishing an ashram in Auroville.
Sri Aurobindo Philosophy
Sri Aurobindo philosophy is based on the concept of 'reality of Being and consciousness' amidst the big universe in which we live. The philosophies of Aurobindo Ghosh were very simple and clear cut. He taught people to become aware of their true self and feel the presence of divinity lying within them.
Sri Aurobindo Writings
The early writings of Aurobindo Ghosh consist of the poems that he penned down when he was a student in England. He wrote quite a number of plays and poems, during his thirteen years of stay in Baroda. If you want to have a look at Sri Aurobindo works, you can check out the volumes titled Collected Plays that contain the short stories and plays written by him. His poetry is published in the volume Collected Poems.
Aurobindo Ashram
Founded in the year 1926, Sri Aurobindo ashram has witnessed tremendous growth over the years. From a small group consisting of 124 disciples, today, the Aurobindo ashram has more than 2000 members. Since it is situated in the busy Pondicherry city, it is not a very peaceful place. Infact, it can be said about the ashram that, it is a very vibrant center that is always abuzz with activities.