T. Satishan
Kozhikode (VSK). Kerala Governor Arif Mohammed Khan stated at Kozhikode that the Dharma of the media is to convey to the people the facts sans any twist. They have to follow this principle when they report the happenings. They should not succumb to the pressures of politics and the institutions. They should not give up calm and mental balance. Matters should not be twisted; it should not misguide the readers and viewers. Maharshi Narad said – "Always talk truth for the benefit of sarvabhootas".
Governor was inaugurating the 71st anniversary of 'Kesari' Malayalam weekly and the Media Seminar at Kesari Bhavan, Kozhikode. He said, even though Bharat is heading fast towards the position of Vishwa Guru, most of our media suffer colonial hang over.
Sanjay of Mahabharata was the first live-on-the-scene reporter. He was explaining to Dhritarastra, father of one of the two fighting factions, the happenings in the war field. Still, he did not try to appease the King by saying untruth or by twisting or skipping the unpleasant news. We should realize the fact that Sanjay was not an individual, but the embodiment of Dharma.
Governor added that impartial and independent journalism is the backbone of democracy under Bharatiya circumstances. But, unfortunately, a section of the media gave in to the anti-national interests of some political parties and some other groups. And, some people create news for them; and they accept payment for it. It is a dangerous situation. But Kesari serves as a corrective force for such people. That is the beauty and magnanimity of Kesari.
Arif Mohammed Khan said that he is ready to resign as Governor if it is proved that he has interfered in any government policy or actions. The same time he repeated his allegation that Government has interfered in his duties which are defined in the Constitution unequivocally. But, fortunately, the verdicts of High Court and Supreme Court will pave the way for the regain of universities' autonomy. The verdicts are silver-lines of hopes. He said, he has not done anything new as Governor, but have been salvaging the lost responsibilities.
Adv. P.K. Sreekumar, Managing Trustee of Hindustan Prakashan Trust, presided the event. T.P. Sreenivasan, renowned academician and former Ambassador, NIT Calicut Director Prof. Prasad Krishna and Prajnapravah national coordinator J. Nandakumar also spoke on the occasion.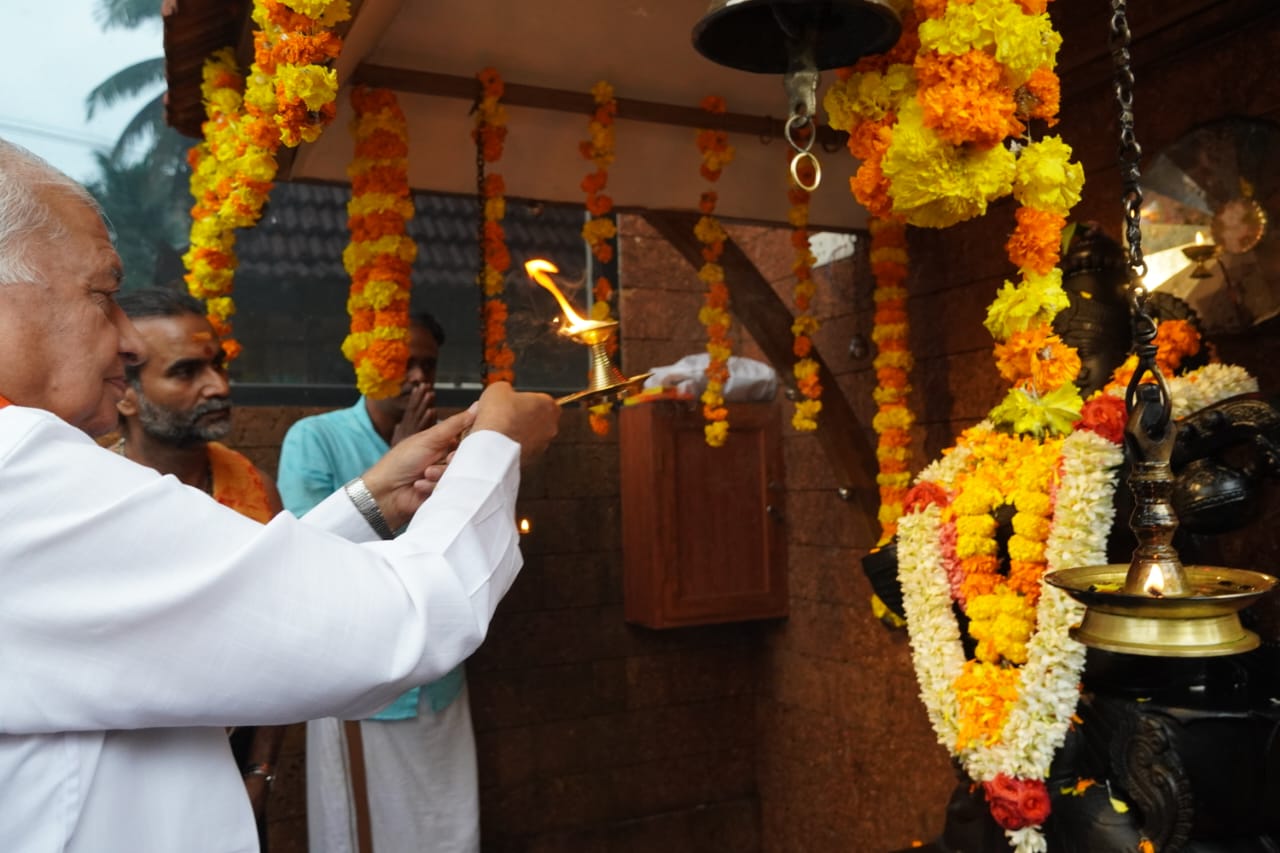 Governor offered arati before the idol of Goddess Saraswati prior to the programme.
T.P. Sreenivasan inaugurated an academic institution to train journalists. It was followed by a seminar on "Media Dharma of Contemporary Period". Prajna Pravah Coordinator J. Nandakumar and former Mathrubhumi Programme Head M.P. Surendran addressed the seminar. EIT Calicut Director Porf. Prasad Krishna presided. Kesari chief editor Dr. N.R. Madhu delivered the introductory speech. Harikrishan Haridas proposed vote of thanks.