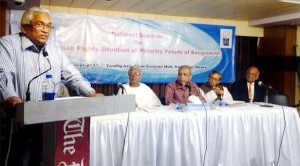 Dhaka. Grabbing of ancestral lands by outsiders is a major cause of violence against minority communities in Bangladesh. It was claimed by Right activists at the launching of a survey report here on November 18, at the daily start Bhanvan, Kowranbazar. The Groups of Human Rights Alliances those who were tirelessly working for the protection of rights' violence against Minorities were present and three groups of minorities such as "Indigenous Minority" Lesbian Minority and Religious Minorities exhibited their separate presentations. The Bangladesh minority watch President Adv Rabindra Ghosh presided over the conference. The various intellectuals, writers, journalists and professor of Dhaka University were present over there.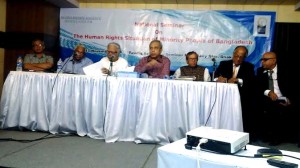 "Leaders of almost every political party want to displace the people of minority communities to occupy their  lands. the politics of land grabbing should be stopped '"Said  Shaktipada Tripura' organizing secretary of Parbatya Chattagram jana Sahati Samiti, a political party based in the Chittagong Hill Tracts.
The survey conducted by Bangladesh Minority Watch (BDMW) throughout the country of Bangladesh. According to BDMW a total of 5,050 people from minority communities were displaced; 3,128 houses belonging to Hindu families were looted and destroyed;1,699 Hindu temples were demolished or vandalized; 706 Hindu girls were forcefully converted to Islam, 392 minority women and children  were  gnag-raped and raped and 402 people from minority groups were killed during  2007 to 2014. The rights organization working for the protection of minorities in Bangladesh disseminated the information at a national on the human rights situation of the country's minority peoples. Yes the other minority groups  like Vanvasi, tribal and Ahmediya gropus are also included for the fact finding to fill the void of the data sources.
The Survey figures are based on research conducted by the organization, newspaper reports, Ain O Salish Kendra (ASK) data and police cases and others media. "communal forces carry out the attacks we see that all parities are united when it comes to looking Hindu houses," Prof. Chandan Kumar Sarkar, a faculty member at the Economics department of the International University of Business Agriculture and Technology (IUBAT), said while presenting a keynote paper and also he is the acting vice president of the Bangladesh minority watch of Bangladesh.
The report reflects that atrocities against minorities are a continuous phenomenon in every regime. They are often forcefully converted in to Islam, raped and killed due to religious fundamentalism.  The religious places or temples are demolishing all most each and every day in the country. Lastly he concluded that if there is injustice in anywhere that means it is threat to justice to everywhere in Bangladesh. "First of all, we have to have a clear notion about the definition of minority", Said Robaet Ferdous, associate professor at Dhaka University's mass communication and journalism department. Mr. Ferdous Said a state should be impartial not only about religion, it should be unbiased regarding gender, ethnicity and language as  well. On the other hand veteran journalist Syed Abul Maksud pointed out that the government should include representatives of minority groups when formulating policies. However, the communalism is thriving under the aegis of the state, so it is very difficult to combat communalism individually."
Highlighting the importance of social media, Nayeemul Islam Khan, Editor of Bangla daily Amader Orthoneeti, said, "There is no way we can deny the power social media can be a strong tool to spread news of minority right violations." The program was organized by Human Rights Alliance Bangladesh, a coalition of civil society groups working for the rights of marginalized communities in Bangladesh, in association with Global Human Rights Defense based in the Netherlands at The Daily Star auditorium.
Advocate Rana Das-Gupta – Secretary General of Bangldesh Hindu Bouddha Christian Oikkya Parishad (BHBCOP) said it is impossible to practice democracy keeping "Islam as State Religion" in the Constitution of Bangladesh. Human rights organizations should come forward with sincere efforts so that fundamentalism should be eradicated.
Dr.  Sukomal Barua – Professor of Pali Department of Dhaka University also highlighted the issues relating to communal incidents which ought to have been uprooted by the present government with iron hands. But ironically it was not done by those rulers.
The international Human rights organization GHRD high officials Mr. Ranjeev gorwi is the board member and Ms. Nazli T was the human rights officer were present on that occasion inaugurated the Alliance.   Lastly, they provide information and short briefing for the local organisations. Mr. Ghosh thanked all the participants in the program outcomes for successful event.