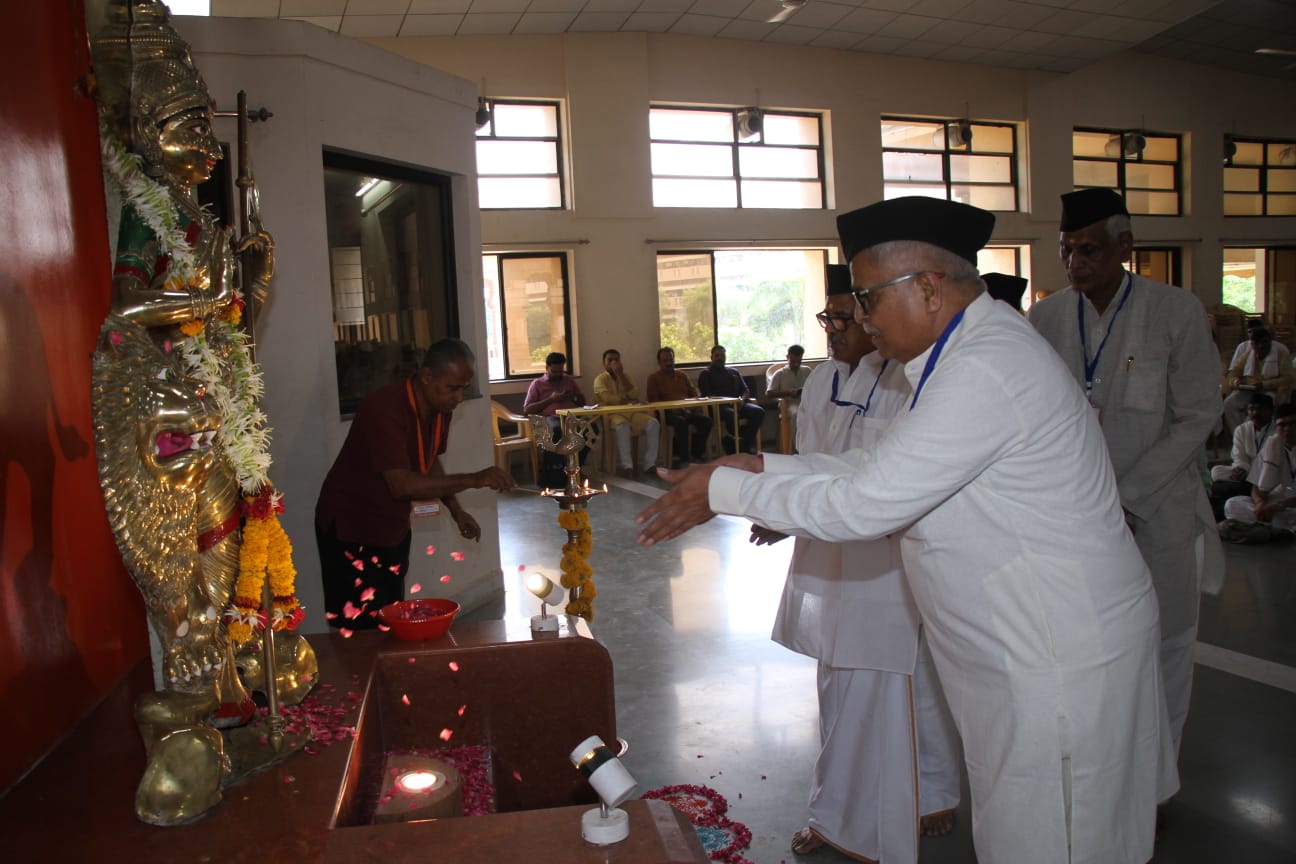 Nagpur. Sangh Shiksha Varg – Tritiya Varsh of the Rashtriya Swayamsevak Sangh commenced at the Maharshi Vyas Sabhagriha, Dr. Hedgewar Smriti Bhavan premises in Reshimbagh, Nagpur today morning.
At the formal inauguration, while addressing the participants gathered here from across the nation, Mangesh Bhendeji Palak Adhikhari of Sangh Shiksha Varg highlighted the importance of Sangh Siksha Varg in Swayamsevak's life. The first Sangh Shiksha Varg was held in 1927 in Mohitewada which comprised of Swayamsevaks from all over the country, which included 17 participants who undertook a 40day training. Since then barring few exceptions like RSS ban after independence, Emergency and last two years of Covid restrictions this Sangha Shiksha Varg has been conducted regularly year after year.
Swayamsevaks for this Varg are selected from across the country who undergo a 25day training in Reshimbagh, Nagpur. Although Swayamsevaks come from different regions of the country and speak different language still they become quite comfortable in understanding each other and become quite emotional at the end of the Varg. The Sangh Siksha Varg contributes immensely to the overall development of the Swayamsevaks. Commitment of mind is the core teaching of this Sangh Shiksha varg.
Total 735 participants from across the nation are attending the varg this year along with 96 Shikshaks. 'In this varg, the individuals participate to do Sadhna here in Nagpur as it is the place from where this idea germinated and took form' added Mangeshji Bhende while addressing the participants. Poorva Sarkaryavah and Akhil Bharatiya Karyakarini Sadasya Bhaiyyaji Joshi also graced the occasion and offered 'Pushap'. The Varg will conclude on 2nd June. A Pathsanchalan will also be conducted on 21st May.
List of Adhikaris for the Sangh Shiksha Varg
Sarvadhikari – Mananiya Ashok Pandeyji (Prant Sanghchalak, Madhya Bharat)
Karyavah – Mananiya Khwai Rajen Singh (Kshetra Karyawah, Assam Kshetra)
Palak Adhikari – Mananiya Mangesh Bhendeji (Akhil Bhartiya Vyavastha Pramukh)
Mukhyasikshak – Shri Prashantji (Prant Sharirik Shikshan Pramukh, Kerala Prant)
Sah Mukhyashikshak – Shri S C Prabhuji (Prant Sharirik Shikshan Pramukh, Tamil Nadu Prant)
Bouddhik Pramukh – Shri Anil Joshiji (Bouddhik Shikshan Pramukh, Pashchim Kshetra)
Sah Bouddhik Pramukh – Shri Shridhar Swamiji (Bouddhik Shikshan Pramukh, Dakshin madhya Kshetra)
Seva Pramukh – Shri Padamkumarji (Kshetra Seva Pramukh, Dakshin Madhya Kshetra)
Vyavastha Pramukh – Shri Sunil Garkate (Sah Vyavastha Pramukh, Nagpur Mahanagar)
Sahvyavastha Pramukh – Shri Parag Pachpore (Bhag Karyavah, Nagpur Mahanagar)