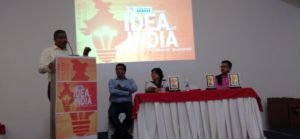 Nagpur (VSK). A brain storming and intellectual summit of youths of Nagpur city was organized by Samarth Bharat, a Nagpur based Think tank. The Programme was held on 7th August at Chitanavis Centre, Civil Lines, Nagpur.
Under the theme 'Idea of India' young professionals and students took active part in various discussions. The idea of the event was to provide a platform for enthusiastic thinkers, writers, orators and social media activists around the city to contribute their views on Idea of India.
Mrs. Aditi Hardikar, Social activist, Mr Ashutosh Adoni, Columnist and Dr. Kapil chandrayan were the guest speakers. The programme comprised of group discussion and interactive sessions with guest speakers. The topics of group discussions were Freedom of Expression – How Free can free speech be ? , Indian culture – flowing river or a stagnant pond, and Bharatiya Arth Sutras – A global perspective or Impractical approach? All the participants took active part in groups discussions.
While addressing the students on the topic of Bhartiya Arth sutra Dr. Chandrayan said that Indian economics is man centered while western economics is market centered. In Indian economy, emphasis is given on self empowerment of individual which ultimately leads to economic prosperity. Indian economics does not consider 'Labh' (profit) only but 'Shubh labh'. He added that the Mahabharata is an evident example of effective economic model and we need to find the relevant aspects from the holy book.
Social activist Mrs. Aditi Hardikar emphasized on the judicious and think tank based approach to study various social and cultural issues to find substantial and constructive outcome instead of empty rhetoric of freedom of expression. She said participants to use social media platform for constructive use with correct and factual information. She urged organizers to conduct more such interactive activities for building a group of intellectual youths as youths are the future of this country.
Veteran Journalist Ashutosh Adoni expressed his views about Indian culture where he said that Indian civilization is the only civilization which has sustained attacks by External aggressors for more than 1000 years. Indian culture is so rich because it encompasses every individual and ideological thought. India is the most tolerant country which has given the thought of universal brotherhood. He concluded that Indian culture is scientific in nature and would be relevant for many centuries.
The concluding remarks were given by CA Rajesh Loya who envisaged the importance of Indian culture and heritage. He urged students not to get indulged in blame game and instead they should give a thought on discussion and deep study of issues prevalent to the society. He asked participants to use social media very vigilantly and seriously. He added that difference of opinion is normal but youth must give importance to values and ethics while pursuing their careers.
The event concluded with national anthem. It was well attended by youth from all walks of life.