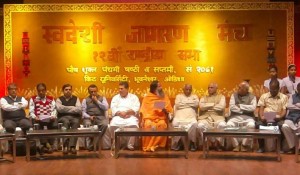 Bhubaneswar. Functionaries of Swadeshi Jagaran Manch (SJM) attended its 12th national convention which kicked off at KIIT on Friday, Dec. 26.
Speaking at the inaugural ceremony, the national coordinator of SJM, Mr. Arun Ojha claimed that the organisation has always stressed on the fiscal policy which will ensure real benefit and welfare of the people. Lamenting that the fiscal policies of Bharat have often been modeled on western countries without taking the local conditions into consideration, he claimed that the initiatives like "Made by India" would ensure that Bhatrat's interests are protected.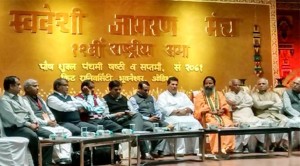 Among others, Kriya Yoga Ashram and Pragyan Mission international chief Swami Prangyananda Maharaj and internationally acclaimed sculptor Raghunath Mohapatra attended the inaugural ceremony.