HAMIRPUR. Akhil Bhartiya Karyakarini member of Rashtriya Swayamsewak Sangh (RSS), Indresh Kumar, on Sunday said there was a need to rewrite the "distorted history of India" to make the coming generations aware of the country's glorious past.
He alleged that there were forced forces in the country who want the "distorted version" to continue being taught "at the behest of the foreign powers".
The RSS leader made the comments while presiding over the centenary celebrations of late Thakur Ram Singh, the main force behind history rewriting movement in India that has its hub at the Neri (Hamirpur) research centre.
Senior Bharatiya Janata Party leader and former chief minister, Prem Kumar Dhumal also spoke on the occasion.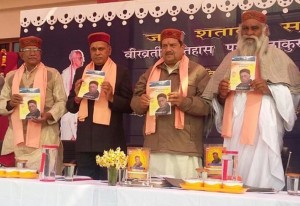 Indresh Kumar lauded the research centre for working to provide the "real version of the history" to the present and the coming generations. "Nations that forget their history lose everything," Kumar said while adding that there was a need to identify forces that were trying to harm the nation and its cultural heritage. Ram Singh belonged to Jhandwin village of Hamirpur district.
Earlier, three books related to the history of India were released by Dhumal and Indresh Kumar.