Kolkata. RSS Dakshin Bang Prant organised a special event on 23rd of January (Parakram Diwas), namely 'Netaji Loho Pronam' which means 'Netaji please accept our respect' to pay tribute to Netaji Subhash Chandra Bose on his 126th birth anniversary in Kolkata which is also his birthplace. Such large gatherings in the heart of Kolkata have not been witnessed in recent past.
Huge enthusiasm was seen in Swayamsevaks participating in Drills, marching, playing the drums, and blowing a bugle in the programme. A Samabet Geet was sung in the event to pay reverence to Netaji. Sarsanghchalak Dr. Mohan Bhagwat ji addressed the gathering in Kolkata.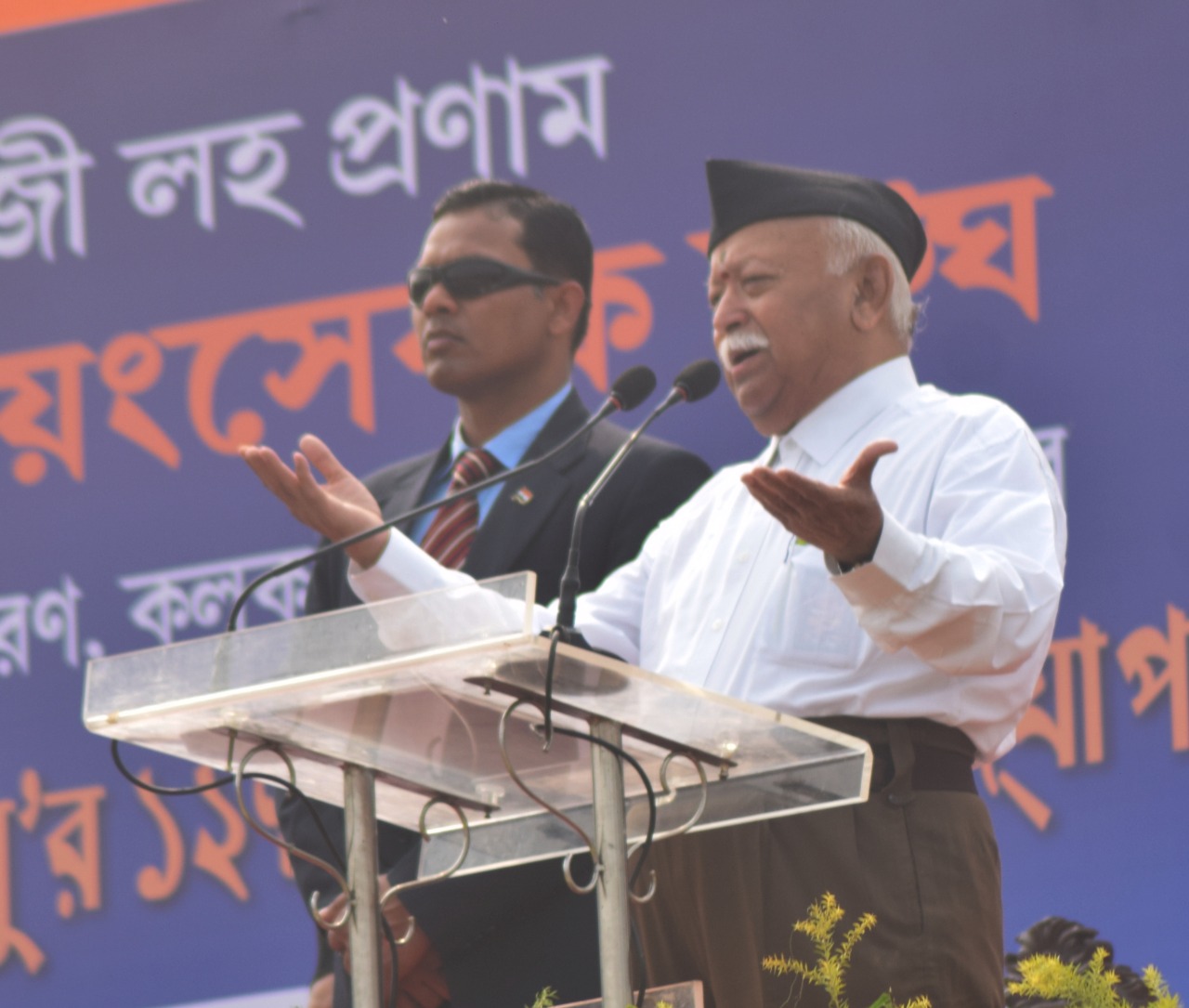 The high lights of his speech are –
"RSS units have been organising events to celebrate the birth anniversary of Netaji each year although not in large scale like this. The Sangh has now become a big family. Everybody knows RSS now. I have attended similar programs was attended in Shyambazar, Kolkata, Silchar in Assam in other locations".
"He sacrificed his life for the country. Netaji never saw selfishness. He could have lived a luxurious life, but he chose exile–he had to go out of the country, went to jail and formed an army to fight for independence. His life was nothing but a penance (tapasya) and he worked selflessly for the country".
"We never did justice to Netaji. Swami Vivekananda had once said his speech in Lahore that we needed young people Guru Gobind Singh. Guru Gobind Singh sacrificed everything in his life, fought wars, his four sons were killed, he was killed too. He got nothing but indifference from the same people whom he sacrificed everything for. But he never complained anything against them, and worked selflessly. The only person who had all the qualities of what Swami Vivekananda had described was none other than Netaji Subhash Chanda Bose."
"There were people who were against him and had different ideologies, but despite of having such a big army, he didn't fight inside feud to oust them. And that's why even after many years of independence Netaji's legacy is still alive without even making any efforts. Still, he is in our remembrance and we call him Netaji as he guided each and every one as an unmatched true leader."
"For the country's welfare, he went to any extent and fought wars. Despite being the commander of the army, he led the army from the front with shoulder to shoulder like a common soldier. He undertook the daunting task of challenging the mighty British empire by forming a new army. Such was his calibre. If luck was with him, he could have entered a long way deep inside our country. Together with the other freedom fighters in the country, they could have set the country free a long time back."
"So even though it is our duty to pay tribute to Netaji, but we should instil Netaji's qualities in ourselves to complete unfinished work of Netaji's dream of making India great is incomplete. We all have to work hard to fulfil it."
"When want to do something, we have to reach a destination. The path and direction to the destination can be different as per the time, situation and circumstances. But object and destination doesn't change. Subhash babu (Netaji) was first associated with the Congress and followed its path of 'satyagraha', and 'nonviolent andolon', but when he realised that this was not enough and there was a need for an Armed freedom struggle, he worked towards it. Paths differed but the goals were the same."
"Therefore, it is the goal or object what is most important. And one should have the quality to cross the barriers in the path towards destination. And the destination fulfil Netaji's dream. Sangh is constantly following the same principle like all other great personalities who selflessly working hard to make India a great nation to contribute to the whole world. That is bring peace and prosperity to the whole world maintaining without encroaching into anyone's freedom and individuality."
"Netaji had said India is an Immortal nation. It cannot ever come to end. India taught 'Dharma' to the world. This 'Dharma' is not religion, but the philosophy of Unity by respecting all. Netaji said that India is a smaller version of the world and India has to provide relief to the world. If we solve the problems of India, then we can solve all problems of the world."
"Netaji said that since losing independence, we started putting self before nation. We have had so many different types of cultures, food, languages, religions, physical appearances in India, but despite all these we remained United since ancient times. But we lost our rich cultural identity and started fighting within ourselves. We became divided and the invaders took advantage of it. But the time has come to instil in our heart that we have put Nation first, before all self-interests and prosperity.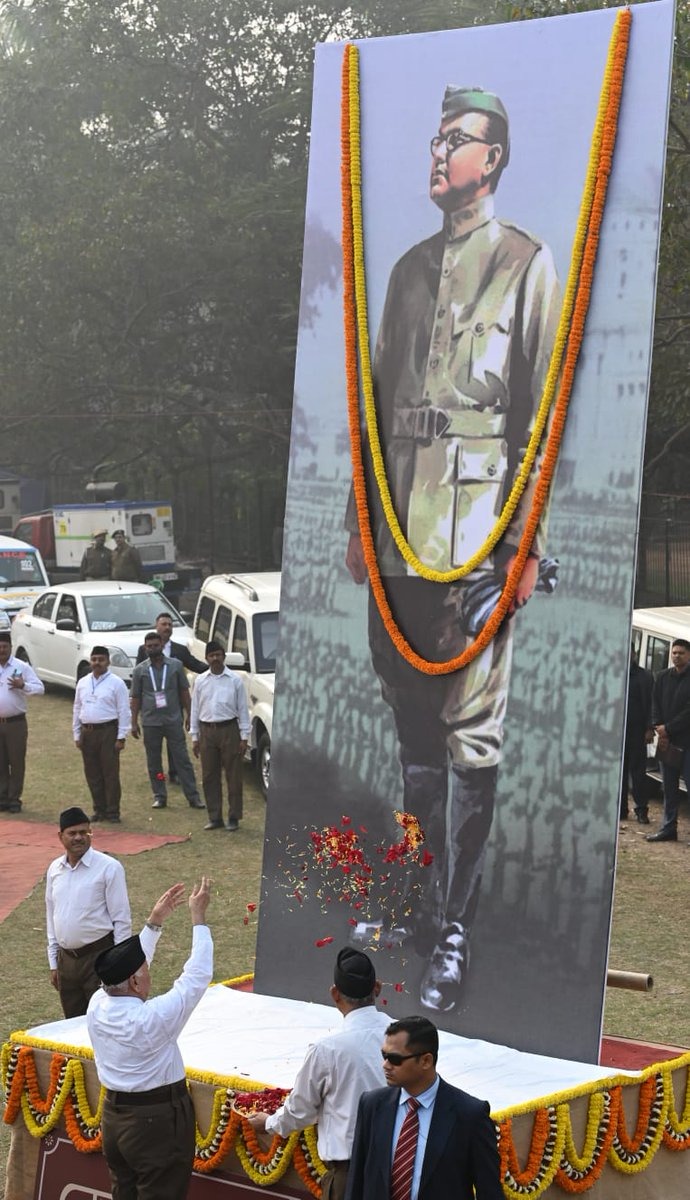 In Sangh, we do prayer every morning where in Bharat Mata comes first, even before Gods. And our prayer end with Bharat Mata too.
To build the nation, we have to first build the character of the people and have to come out and work as one. We have to work hard to do so. Sangh does the same. Drills in Sangh teaches us discipline and Unity, helps in Character building. Doing things unitedly is the moto of SANGH. It does not come one day, and it needs practice. We forgot this concept of Collective pursuit for the welfare of the Nation. Sangh strives to instil this very thought of Nationality and never strives for fame. Sangh strives the philosophy of Netaji to preserve the cultural Identity of the Nation. Sangh also follows the pursuits the ideologies of other great personalities like Rabindranath Tagore, Swami Vivekananda, APJ Abdul Kalam etc.
"Although we got our freedom, but the work is not over yet. British no longer rules us, we govern ourselves by our elected representatives. But based on our true heritage and culture we have to create a remarkable India so that our country can lead the whole world to the avenue of peace and prosperity. We have to follow the philosophy of Netaji for building the nation by instilling good qualities in ourselves, keeping interest of the nation before self and following the disciplined life."