Bengaluru. 'Keshava Seva Samiti' an RSS inspired NGO of Bengaluru celebrated 125th Jayanti of Dr BR Ambedkar in a unique way on Tuesday, in which Hon Governor of Karnataka Vajubhai Rudabhai Vala participated making a visit to slum (seva basti) in Vimanapura in Bengaluru.
At 9.00am on Tuesday, Governor of Karnataka Vajubhai Rudabhai Vala arrived in, garlanded the statue of Dr BR Ambedkar near Anandapura Samudaya Bhavan, Old Air Port road, Vimanapura of CV Raman Nagar Assembly constituency Bengaluru. RSS Prant Sah Karyavah Prof BV Sreedhar Swamy, Educationist Dr Venugopal, Local MLA S Raghu, Keshava Seva Samiti's Prakash raju, several other social leaders attended the event.
VR Vala urged the assembled crowd to chant Babasaheb Amar Rahe! He pointed out that Babasaheb spent his entire life in the service of the nation. He entreated youth not to waste time on trivial things but read biographies of great personalities like Babasaheb, Sardar Patel, Gandhiji, Shivaji etc to gain inspiration from their lives. He also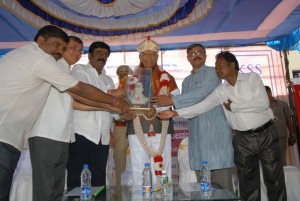 emphasised on the importance of education as a tool to further one's prosperity quoting example of Babasaheb. The governor also underlined the importance of educating, respecting and empowering women in our country. The governor concluded his speech with the message to be useful to society, respect women, raise children with cultural values and serve the nation.
In the cultural programme kids of Kalika Kendra run by Keshava Seva Samiti, sang  patriotic songs. The programme concluded with National Anthem. This was followed by Sah-Bhojan.
Karnavati, Gujrat. Vishwa Hindu Parishad celebrated Dr BR Ambedkar's 125th Birth Anniversary at Karnavati on 14th April, VHP Chief Dr Pravin Togadia offered floral tributes to the statue of Dr BR Ambedkar. Dr Pravin Togadia addressed on the Life and legacy of Dr BR Ambedkar.