BHUBANESWAR. Casteism as an issue, impact our society at deep. We at public life like Kumbh mela, hotel and at social festivals behave as if there is no caste or class, but in personal life it is contradicting. So it's the hypocrisy that plays with us. There is no casteism in Sangha. It always tries to uproot the casteism from the society – said Shri Dattatreya Hosbale Sah Sarkaryavah of RSS. On the occasion of Chaitra Sukla Pratipada, otherwise known as Hindu Nav Varsh was celebrated at IMFA park, Saheed Nagar, Bhubaneswar. Shri Hosbale delivered his version as chief speaker.
He added Our society use to worship the trees, soil even water since long back. But it is the British who has made the casteism more significant as a dividend policy for better ruled. We know each human being poses the god within but we are hesitating our people, now and then. On the sharing of an airplane experience he said during 31st December, the pilot congratulate for coming New Year. But this time pilot didn't do any congratulation on the eve of Hindu new year. It signifies that we have forgotten our own self, about the culture and beliefs of our own.
We are performing well at outside but our country is being neglected. Founder of RSS Dr Keshav Baliram Hedgewar is not merely a person rather than an iconic name in organization building. Eventually Chaitra Sukla Pratipada is the birthday of Dr Hedgewar. But RSS never celebrate it as founder birthday rather a day as nationally and culturally important. It is the day when moon completes its rotation. In some state this lunar cycle is being considered as new year whereas in other states, the solar cycle is considered as new year, which actually comes on 14th April every year.
It is because of self-confidence not only we are losing rather receding at all respect. Exemplifying the event of Japan, he said after 2nd world war Japan was devastated like anything. No one was ready to buy Japan product in international market. But because of quality and self-confidence Japan is now super economic power. With association of few and confidence ,The Jews brought back Israel as their motherland after a long period of struggle. So, each individual's inner confidence has to be lightened.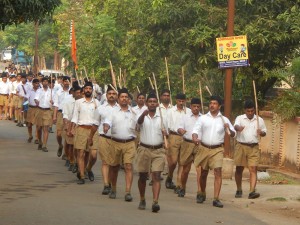 RSS never believes in publicity. It's man making and character building factory since beginning. Reciting the life sketch of Dr Hedgewar he said that during freedom movement he was presided over Congress but doubted the fate of country after independence also. How many Krantikari(revolutionary patriotic people) will die for a simple case? This model will not run in future, rather a stable and confident society can only fight with government. RSS used to do so many service work but never runs after publicity. Hindu can never be a communal force rather it works for humanity and brotherhood. Swami Vivekananda was appreciated worldwide just on sharing the views of Hindu religion. When Vivekananda is appreciated for Hinduism, how Hindu religion is communal? If Hindu is communal, then Vivekananda, Aurobindo, Mahatma Gandhi are all communal. Defining the definition of Swayamsevak he said that "swayamsevak is not a coolie who used to arrange meeting and serve to others rather a self motivated, confident and patriotic personality who is endowed with lots of characteristics power within him". This is the definition raised by Dr Hedgewar in 1925 while RSS was founded. With few life sketch of Dr Hedgewar he edify the swayamsevak as hero and ready personality to work for a national cause. This is the motto of RSS that is being practiced in daily Shakha.
The meeting was preceded by a root march of 100 swayamsevaks with full uniform. The chief guest chair was filled up with Mr Ghanashyam Satapathy, Principal Gyan Bharati +2 science college Bhubaneswar. Also the stage was presided by Dr Basant Pati.