No religion teaches fundamentalism – Indresh Kumar
Ranchi. Muslim Rashtriya Manch (MRM) Patron Indresh Kumar said that no religion has ever preached fundamentalism to its followers. There are 6666 verses in the Holy Quran but not a single one contains the word 'Kattar'.
All the religious texts including Gita, Quran, Bible, Guru Granth Sahib, Buddhist or Jain scriptures do not teach fundamentalism. They all advice people to be true, good, and humane. This is the way of the Prophet, and Gurus, Indresh Kumar said.
He was speaking at voter awareness program.
The program was organized by MRM Ranchi unit on the theme of 'Rashtra ka Nirmata Desh ka Matdata'. MRM National Convener Dr. Shahid Akhtar, noted cancer specialist Dr. Majid Talicoti and others were present on this occasion.
Indresh Kumar further said that the opposition parties have always misguided the Muslims about the BJP and RSS. They even used to say that if the BJP came to power they would not allow Muslims to stay here. But nothing has happened and their fears were proved unfounded, wrong and concocted. Not a single Muslim settlement was ever uprooted in the last five years of the BJP rule.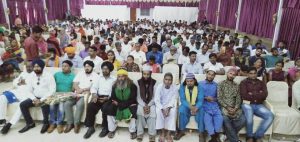 He said that the Congress party has reduced Muslims in India to a purchasable and weak community. He appealed to them not to come under influence of the misleading propaganda of the Congress and other parties.

He said under Narendra Modi's tenure, India has developed very cordial relations with the Muslim countries that the Organization of Islamic Countries (OIC), a body of over 70 Muslim countries, had invited India in spite of Pakistan's strong objections. This is a great achievement, he said.

MRM National Convener and Vice-Chairman of National Council for Promotion of Urdu Language (NCPUL), and former Jharkhand State Minority Commission Chairman Dr. Shahid Akhtar said that we must understand the role of the common voter in rebuilding of the nation. All people must give priority to development and elect such people who will carry out these development works.

He said that the country needs a government that would focus on education, progress and health needs of the people. When a road is built or a hospital is constructed it benefits all citizens and not just the Hindus or Muslims, he said. Therefore, we must elect good government by our vote, Dr. Akhtar appealed to them.

Kayamuddin Khan gave the welcome speech. The program was attended by Jharkhand MRM Convener Ainul Huda, Regional Organizing Secretary of Hindu Jagaran Manch Dr. Suman Kumar, Dr. Amar Chaudhary, Dr. Majid Ahmaad Talikoti, Farhana Khatun, Prof. L.N. Das, Mohd. Ezaz, Prof. Ashfaq, Johny Khan, Nazis and others.

Two minute silence was observed in memory of those killed in Sri lankan blasts.

/?php if(of_get_option('disable_share') != true) { ?> /?php echo mom_single_share(); ?> /?php } ?>
About The Author
Related posts
Leave a Comment