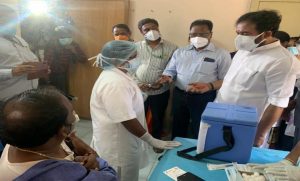 Bhagyanagar. Union Minister of State for Home Affairs G. Kishan Reddy has said that there was no shortage of Covid-19 vaccine in any part of the country.
Speaking to media after visiting Covid-19 vaccination centres at Gandhi Hospital in Hyderabad on Friday, Kishan Reddy said that the vaccination programme was going in a speedy manner across the country.
Asking the people to take vaccine as prescribed by the government, the Minister suggested that those who are taking vaccines have to be careful. An awareness has to be created among the people on "Tika Utsav," Kishan Reddy said the Central government was making all the arrangements to supply vaccines.
He stated that Serum Institute and Bharat Biotech were manufacturing Covishield and Covaxin vaccines excellently. Both the companies were exporting vaccines to 58 countries besides providing in India.
He said the vaccines were supplied free of cost in Government hospitals. For the convenience of the people, special vaccination centres were set up in the Gandhi Hospital, he said.
Costa Rica authorizes emergency use of AstraZeneca COVID-19 vaccine
Costa Rica's National Commission on Vaccination and Epidemiology has authorized the emergency use of the AstraZeneca vaccine against the coronavirus, the Ministry of Health said.
"The National Commission on Vaccination and Epidemiology (CNVE) has allowed the use of the AstraZeneca vaccine against COVID-19. It will be used among people aged over 18 years old, without any age or gender restrictions, depending on the vaccination progress in various age groups. The drug will not be used among pregnant and breastfeeding women."
The vaccination campaign started in Costa Rica in December 2020 when the country authorized the use of the Pfizer drug. Costa Rica has confirmed 220,000 COVID-19 cases so far, with 3,000 fatalities.