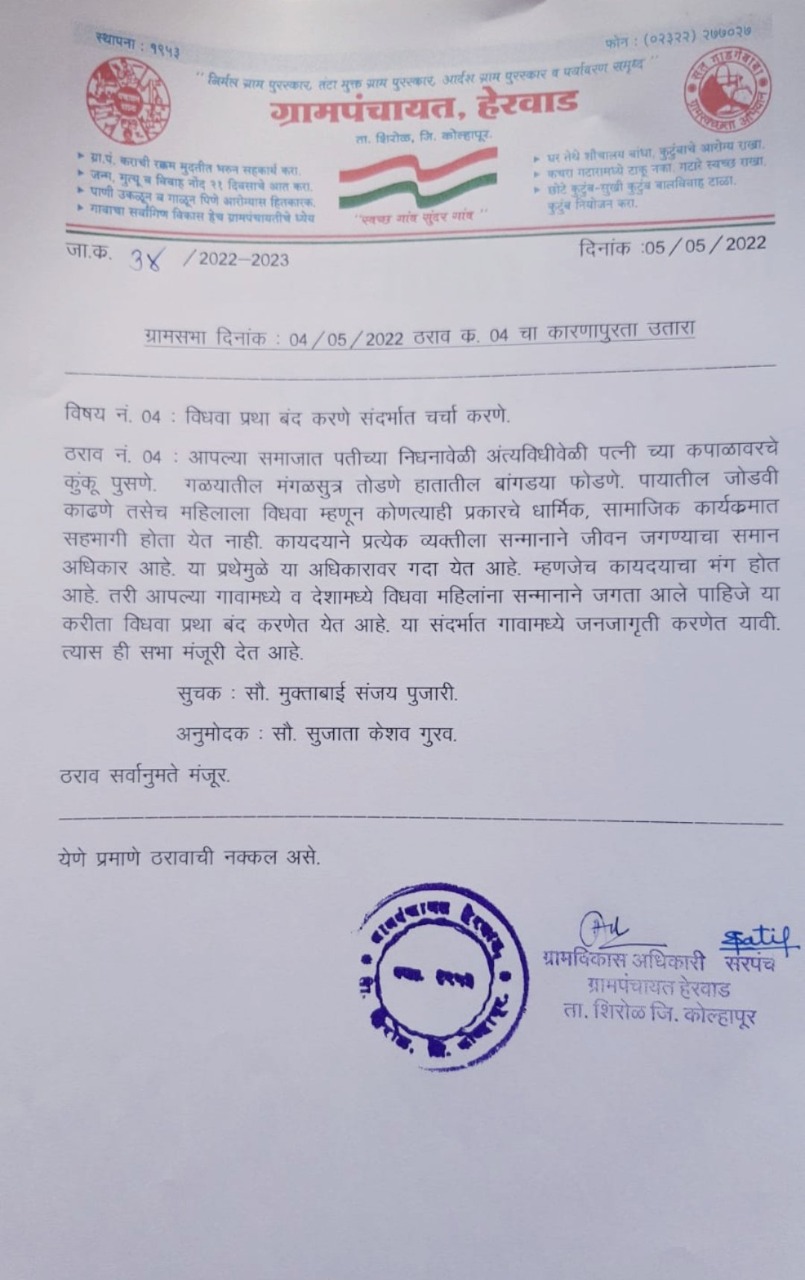 Kolhapur. Many joyful events are taking place in the 75th year of independence, one of them is the resolution of 'widow honor' passed by the Herwad Gram Panchayat.
Herwad is a very small village near Kurundwad in Kolhapur district. Falling in the present-day Kolhapur district. Herwad village was earlier part of Kurundwad Princely State. There were many reforms in this area even then. Chhatrapati Shahu Maharaj enacted several revolutionary laws for the upliftment of women in the neighbouring princely state of Kolhapur. In 1917, a ban was imposed on cutting the hair of widows which was rampant during that period. Widow remarriage was given legal recognition and a law prohibiting cruelty to women was enacted. A law banning the practice of Sati was passed in 1829 with the efforts of Raja Rammohan Roy during the British rule. After independence, Dr. Babasaheb Ambedkar gave the right of remarriage to widows through the constitution. To stop this evil prevalent in the society, many social reformers started a movement and yet today in the year 2022, the Herwad Gram Panchayat has to pass a resolution that 'The ritual of wiping the kumkum off wife's forehead after the death of the husband, abandoning the Mangalsutra and bangles etc. and forbidding her from participating in religious programs is banned in this village'.
Maharashtra is one of the most advanced and progressive states of India. Particularly, the developed area of western Maharashtra is relatively ideologically and socially progressive. In such a situation it is unfortunate that Herwad Gram Panchayat in Shirol Tehsil of Kolhapur district has to take this decision. But the shocking fact has also come to the fore due to this that such discrimination is prevalent in the society even today. And it is certainly commendable that a village has taken the initiative to change this unfortunate reality.
However, thinking that such a resolution would not have passed suddenly without any reason. I contacted the former sarpanch of the village Mrs. Sangeeta Patil. It was understood from the conversation with her that seven-eight youths had unfortunately died during Covid period in the village. These youths, around 35 years of age, were snatched away by Covid and left behind their young 'widows' around 30 years of age. They had small children with them. Some had to go out for work. We have to accept the fact that a single young woman still feels the security of the mangalsutra while going out in the outside world. So, a young woman from the village decided to wear a mangalsutra while going to work. After seeing the reactions on her action, Sarpanch Surgonda Patil felt of taking this step. A social organization has started this campaign everywhere. This resolution can also be seen as a part of that.
Following the example of Herwad gram panchayat, the other gram panchayats should take such initiatives in this and other subjects. Social reforms depend more on the ideological maturity of the society than on the law. So even if the government makes laws, still problems remain in the society. However, sometimes such unfortunate incidents can be prevented by showing fear of law. That's why this Resolution has importance, but the last sentence of this Resolution is most important that 'public awareness should be done in this context in the village'.
If this practice has to stop and widows should get respect in the true sense, then this idea should percolate among women. Preventing or promoting cultural change is largely in the hands of women. The dignity and security of a woman depending on her marital status is a symptom of the backwardness of the society. So, there is a need to change the mindset of both men and women.
Sangitatai talked about some strange contradictions in the society. She said, "Nowadays, especially in urban areas, girls are ashamed to wear kumkum-mangalsutra. That's why there is a dispute that why should we be forced to wear these things? But the girls from the rural areas still wear mangalsutra with their attires no matter how small it is. There are some scientific reasons behind all these things in our culture like Kumkum, Mangalsutra and Bichiya but girls no longer believe in our culture."
Some fight against forcing the mangalsutra, while others fight for not removing the mangalsutra. But when will the reality change that in both cases her existence, modernity, prestige and security still depend on her marital status?
When will we allow them the freedom to simply follow or not follow their beliefs?
There should be equality as well as ease in the society.
Ideological, cultural and social change is a subject that gradually takes root. For that everyone should check whether their individual behavior is compatible with their social views or not. Improvements should be put into practice. They should not be lost in law, in movement, in agitation, in credibility and in politics. Nowadays the wave of such movements comes immediately. It will also come for such resolutions.
Vinita Telang