Arunachal Pradesh. The 20day Officers Training Camp of Rashtriya Swayamsevak Sangh concluded at Abotani Vidya Niketan, Pachin Colony, Naharlagun on 12th may. Speaking on the occasion as the Chief guest Shri Ligu Tacho, Chairman Arunachal Pradesh Public Service Commission lauded the efforts of the RSS in smoothening the uninterrupted flow of the Bharatiya Culture and traditions forward. He opined that the Indian civilisation is the only civilisation in the world that originated in the distant past and has been progressing uninterrupted even today. He reiterated that he is committed to the preservation and promotion of the indigenous faith and culture of his state in the larger interest of the protection and promotion of the Bharatiya culture.
Addressing the swayamsevaks as the key speaker, Shri Ullas Kulkarni, the Kshetra Pracharak (Regional Organising Secretary) said that the Rashtriya Swayamsevak Sangh should be known by understanding what it does, not by hearing what the others casually say about it. He added that RSS has been generally seen, reported and even debated as a group of people working with certain fundamentalist principles and objectives. He categorically stated that since its inception, the RSS has been continuously working for instilling positive patriotism among the people, especially the youth to inspire and prepare them to selflessly work for the country.  He further reported Dr.Keshav Baliram Hedgewar who founded the RSS had the clear vision that only the eviction of the British from the country would not be enough to leading the country forward, rather it should supplemented with a patriotic population who considers the nation and its interests above everything else.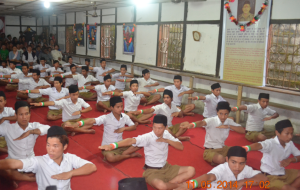 Shri Nabum Ruja who led the camp as Varg Karyavah presented a brief report of the camp with details of the objectives of the camp, its participants, resource persons, visitors and the several programs conducted within the camp.
Among others, Shri Raj Kishore Shah, DIG (ITBP,Kimin), Dr. Hui Tag, Assistant Professor (RGU), Shri Tai Tagak (State President, BJP), Mrs. (Dr) Joram Anya (Asst Professor and State President, ABVP), ShriNidoSakter (PrantKaryavah,RSS), ShriTadar Kama(President, Arunachal ShikshaVikasSamiti) Shri Techi Upen (Asst Professor, GC, Yachuli), Rubberman of Arunachal Pradesh Shri Ojing Aze, Shri Bengia Augung, Sr Journalist,  Dr T Taggu (ASH, Arunachal state hospital), and Shri Tayi Taguu (Under secretary, Dist, Admn.)  etc. attended the concluding function. Shri Tame Rajan thanked all the visitors and participants with a positive note that their efforts cooperation would definitely have its niche in shaping a well disciplined Arunachal society.