Other countries' trust in Bharat has gone up – Dr. Mohan Bhagwat Ji
New Delhi. RSS Sarsanghchalak Dr. Mohan Bhagwat Ji has said integrity and honesty are the main strength of Bharat. After Independence Lal Bahadur Shastri, first as a union minister, then as a prime minister, demonstrated it for the first time. Similar honesty and integrity is being seen around today also because of which Bharat's reputation and dignity in the world had gone up. The Sarsanghchalak was paying tribute to former prime minister Lal Bahadur Shastri and his wife Lalita Shastri at the Lal Bahadur Shastri Technical Intermediate College in Manda. He unveiled the pictures of Lal Bahadur and Lalita Shastri also.
He said as the pace of development works goes up, Bharat's strategic policy would not play second fiddle to any other country. He said there has been a perceptible increase in the confidence of the world-wide nations in Bharat because of integrity and honesty that Bharat has upheld since ancient times. "Whatever we do, whatever we speak. There is no gap between our deeds and words."
The RSS sarsanghchalak said if people adopt two qualities of Lal Bahadur Shastri there can be a major turnaround in the country. Everybody should resolve to become like Lal Bahadur Shastri because science says as we think so we become. He recalled how Shastri ji's call to the nation to observe fast on Monday was a big step and said many people still observed fast on Monday in his respect. It is very rare that any leader is held in such high esteem. We are seeing it happening again. One person says we should have cleanliness, we should follow Yoga, people start following him.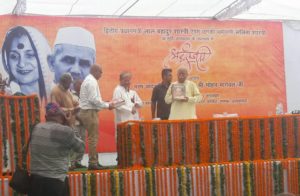 He said Manda was the land of action of Shastri ji and hence a pilgrim spot also. He complimented Shastri ji's wife Lalita ji and his son Sunil Shastri ji for carrying on the mission of Lal Bahadur Shastri. The Sarsanghchalak appealed to the people to help clean Ganga. He said people should resolve to make Ganga pollution-free.

Sunil Shastri Ji, in his address, said Lal Bahadur ji used to respect the RSS a lot. He recalled that during the 1965 Indo-Pak war when Shastri ji had called an all-party meeting he found the then RSS sarsanghchalak Golwalkar ji missing from the meeting. As he was told that the meeting was meant for political representatives, Shastri ji immediately called for Golwarkar ji saying that whenever a matter pertained the nation, the RSS could not be kept out.

/?php if(of_get_option('disable_share') != true) { ?> /?php echo mom_single_share(); ?> /?php } ?>
About The Author
Related posts
Leave a Comment