Kochi (VSK). RSS karyakarta's observed the birthday of veteran RSS Pracharak late A.V. Bhaskaran aka Bhaskarji at Kochi. Bhaskarji was the founder of Bharatiya Vidya Niketan, Kerala chapter of Vidya Bharati, engaged in running schools throughout the country to inculcate Bharatiya culture and nationalism in students, teachers and all others in the field of education.
S. Gurumoorthy, famous Chartered Accountant, economist, opinion maker and columnist from Chennai, delivered the key note address. He inaugurated the Bhaskarji Memorial Conference and the seminar on "Relevance of Ancient Wisdom in the Realm of Global Competition". He stated that Bharat survives amidst all sorts of cultural invasions and terrorist movements, thanks to the rich cultural values. He pointed out that there are 607,000 villages in our country. But, the number of police stations is 12,800. Then who protects our countrymen? None other than our values. Foreigners tried their level best to demolish our values. But, they could win only to a certain extent. If we develop our values further, our country will be the leader of the world. Gurumoorthy added that the modern definition for the development includes the 'call to give up old values'.
He said, our family system and women power sustain our culture, economy and traditions. Our family system always stands for saving the wealth. Our countrymen possess 40 % of the total gold reserves in the entire world. During the 16th & 17th century Bharat enjoyed the number one position in the world economy and China was no. 2. By the end of 17th century Bharat fell to Position no. 2 and China scaled to No. 1. By 18th century, Bharat lost all glories. Reason is obvious: Foreign invasion, their rule and the loss of the values due to their (foreign forces) influence. History says, European powers eliminated 20 million natives when they entered America. This is the foreign method to attain development. But, our country promoted human values.
M. Mohan, Managing Trustee of Lakshmi Bai Dharmaprakashan Trust, founded by Bhaskarji, and spiritual disciple of him, spoke about the dedicated life of Bhaskarji. Bhaskarji's biography penned by M. Mohan was released by S. Gurumoorthy. Seema Jagaran Manch national co-ordinator A. Gopalakrishnan, Lakshmi Bai Dharmaprakashan Trustee Prof. R. Sasidharan, Vidya Niketan state general secretary R.V. Jayakumar, and others also spoke on the occasion.
Bhaskarji was born in Kochi in January 1931 in a rich business family. He joined Sangh during his school days when late Chincholkar was the Sangh Pracharak in Kochi. Later on, when late legendary K. Bhasakar Rao took over the Sangh work in Kochi, Bhaskarji graduated as a senior worker. Himself and former Akhil Bharatiya Boudhik Pramukh Ranga Hari Ji were trained in the same Sangh Sakha in Kochi. Bhaskar Ji came out as a Pracharak in 1953. Since he was born in a rich family with 'golden spoon in his mouth' those days he was considered as the only 'Income Tax Payer' Pracharak (as he was technically a partner in his family business). He started Sangh shakhas in several parts of the state in his capacity as Zila Pracharak and later on Vibhag Pracharak.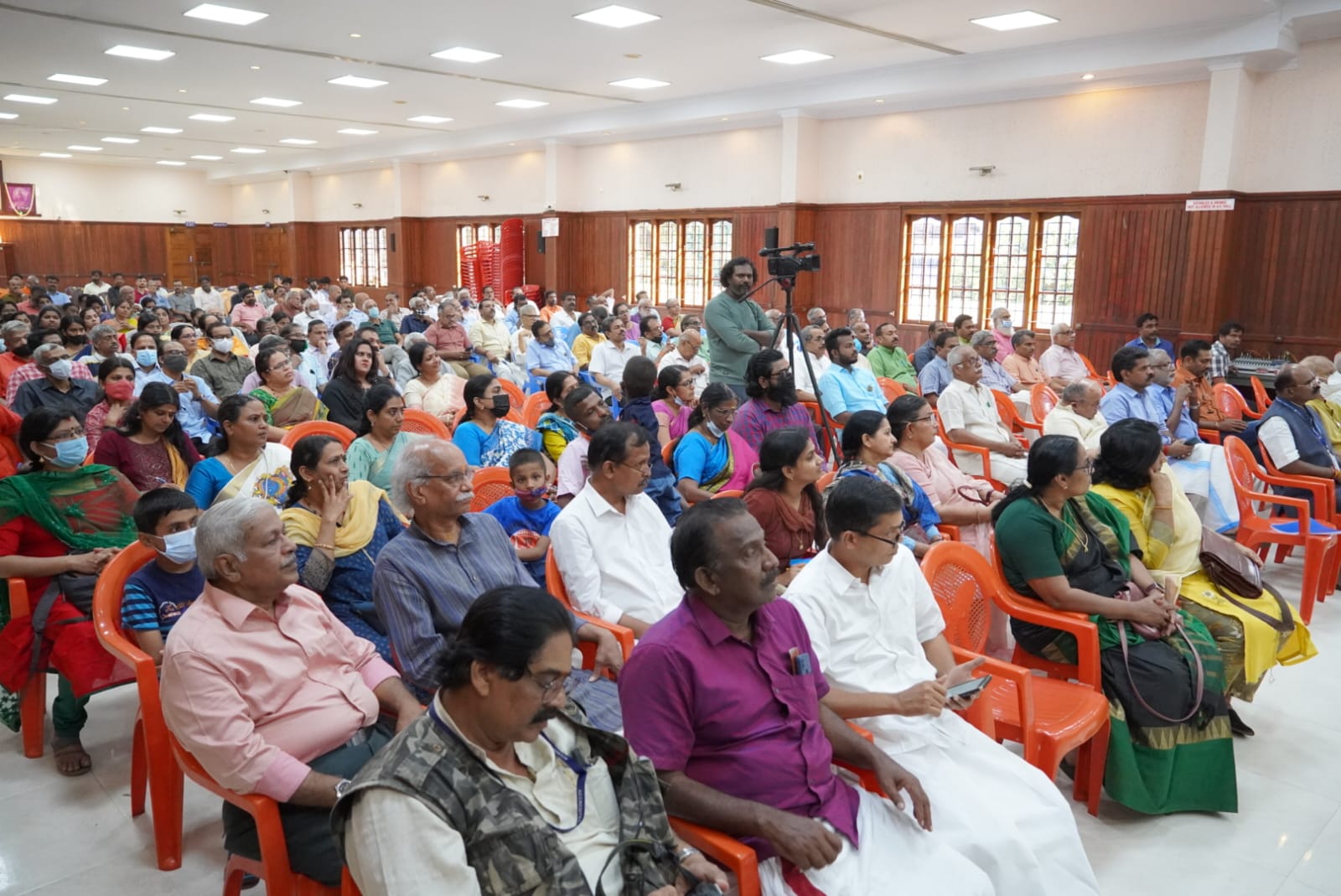 In 1977, Bhaskarji was assigned to launch Vidya Bharati work in the state. He launched Vidya Niketan, the Kerala chapter of Vidya Bharati, the same year. He was the organizing secretary of the organization for the state and later on of Dakshin Bharat. By 2005 – 2006, he stepped down from the organizational positions due to ill health and continued as the Margdarshak until he breathed his last on October 20, 2017.
Bhaskarji was a highly spiritual man and have awarded Manthradeeksha to several disciples.