Over 90 lakh people in Bharat learnt Sanskrit in shivirs conducted by Sanskrit bharati
Sambhashan Sandesh, Sanskrit Magzine – Celebrating 25 Years of┬а Publication
Bengaluru. Rajat Mahotsava, a Silver jubilee event to commemorate the 25 years of Sanskrit monthly published out of Bengaluru, тАШSambhashana SandeshaтАЩ was conducted here in the city.
Janardhan Hegde, Editor of the magazine spoke on how the idea of Sanskrit language to be spoken by common people had to be initiated not mere by propagating that the language was easy to speak and understand but was in effectively reaching peopleтАЩs hearts and convincing the ease in learning of the language by practise.
In his speech he urged that people should subscribe to the Sanskrit magazine not just as a factor of motivation but it stood as a great source of knowledge. In his witty speech, invoking the proverb of the land that one should not ask a man his salary, a woman her age, he added saying one should not ask the circulation numbers of a magazine or newspaper. Albeit he stated Sambhashan Sandesh had earned good readership over years and the 1st edition of the magazine had 10000 copies printed and were distributed to people. He also lauded Dr. HS Venkatesh Murthy who as President of the Kannada Sahitya Sammelana in his address recently had stated Sanskrit could be the link language in the country.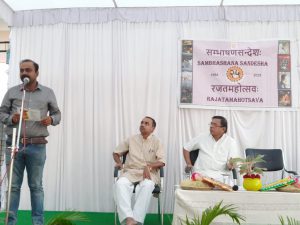 Satyanarayana Bhat, Akhila Bharatiya Mantri of Sanskrit Bharati introduced the gathering at the start of the programme. He said Sanskrit as a language had earned the sobriquet of Lokabhasha, Vishwabhasha and Devabhasha and the need of the hour was it to become Janabhasha – the language of people.
Stating some statistics, Satyanarayana Bhat said over 90 lakh people in Bharat have learnt Sanskrit through various shivirs conducted by Sanskrit bharati volunteers genuinely giving time for the cause. He also opined that for Sanskrit to become the language of Bharat, everyone had the responsibility of taking the language to next levels personally, academically and socially.
The biggest dividend earned learning Sanskrit was that it would help imbibe the superior values of life. Without Sanskrit he said there was no superior life and no Bharat.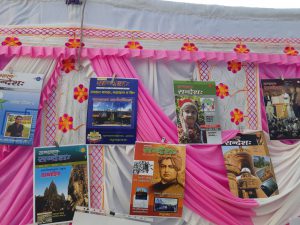 Ajith Hanumakkanavar, Head-News and Programmes, Suvarna News remembered his teacher who spoke 12 foreign languages and it was learning Sanskrit which enabled his teacher to learn and converse in many languages. Taking examples of Germany which had started a University for Sanskrit studies said that there is a hindrance in the nation about indigenous thoughts. Sanskrit being the oldest of the languages would help the knowledge of the past to reach people and was the need of the hour he said.

B. Narayan, Hon Secy of Shanti Niketan School, Madhasudhan Desai, trustee of the Sambhashan Sandesh magazine, Rekha Desai were present.

/?php if(of_get_option('disable_share') != true) { ?> /?php echo mom_single_share(); ?> /?php } ?>
About The Author
Related posts
Leave a Comment