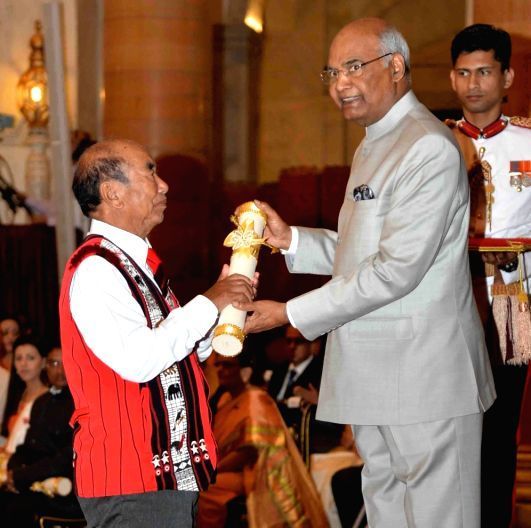 Dimapur. Noted Hindi scholar and littérateur, Padma Shri Piyong Temjen Jamir passed away on Saturday at around 11 p.m. after a prolonged illness at his residence at Padumpukhuri, Dimapur.
Piyong Jamir, from Longsa village under Mokokchung district, was conferred the Padma Shri honour by the President of India, Ram Nath Kovind, in 2018 for the promotion of Hindi language and social work. He is also a recipient of the Ganga Saran Award – received in 2006 from the then President of India, APJ Abdul Kalam. Jamir was the first graduate and B.Ed. degree holder in Hindi among the Nagas.
Condolence
Nagaland governor R.N. Ravi expressed pain at the demise of Padma Shri Piyong Temjen Jamir, noted Hindi scholar and litterateur, after a prolonged illness at Dimapur.
He said late Piyong made outstanding contributions towards popularizing Hindi in Nagaland. He also helped Naga folklores and literatures reach the rest of the country through Hindi. Besides the Padma Shri award, Piyong was conferred with many awards in the field of literature and education. He will go down in history for his contributions to the field of literature and a humanist intellectual who believed in universal brotherhood of mankind.
In a condolence message to Mrs. Pangertula Longkumer wife of late Piyong, Ravi said in his demise the country has lost a noted litterateur and a great thinker.
On behalf of the people of Nagaland and on his own behalf, convey heartfelt condolences and also pray that God grant strength to the bereaved family at this hour of pain and the departed soul rest in eternal peace.