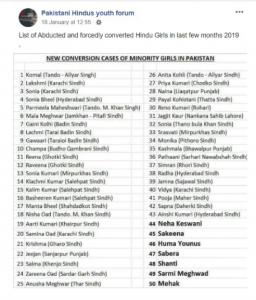 The cases of abductions and forced conversion of Hindu girls in Pakistan in recent times have been on the rise. Daily life for Hindus and other minorities in Pakistan is turning out to be one of torture and agony. Close on the reports of rape and brutal murder of a Hindu women last week, another minor girl has been abducted and converted.
Mehak Kumari, 14, a resident of Jacobabad district in the Sindh province and a student of 9th standard was reportedly kidnapped on January 15th and later converted to Islam. A Facebook page called Pakistani Hindus Youth Forum (PHYF) has reported the incident and says that Mehak Kumari is a daughter of a businessman. She was kidnapped by one Ali Raza solangi and converted on the pretext of marriage. Ali Raza is already married and has kids says the post.
PHYF says that the incident was reported to the media but was ignored. The Muslims say that they were in love and claim that it was not a forceful abduction. However, Ali Raza is a laborer and no way was in touch with the girl says PHYF.
Mehak's father Vijay Kumar says he has informed authorities about the person he believes is behind his minor daughter's abduction. Hindus have also accused authorities in Sindh of failing to crackdown on cases of forced conversion and early-age marriages which target the Hindus and other minority communities in Pakistan.