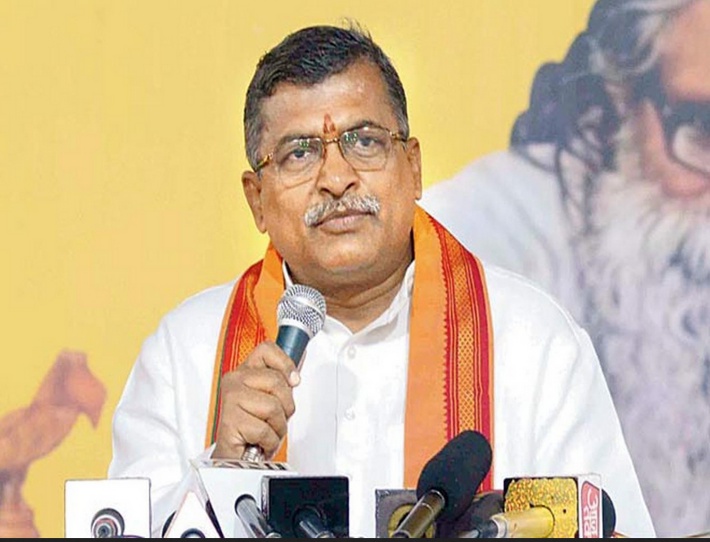 New Delhi. Reacting sharply to the statement of the Foreign Ministry of Pakistan, the VHP Central Secretary General, Milind Parande, said that before throwing its dirt at the neighbours, unholy-Pakistan should stop committing ruthless atrocities on its religious minorities sponsored by its Muslim fundamentalists and the Government! The 70 years of nonstop horizontal religious conversions, inhuman atrocities on and killings of Pakistan's religious minorities, viz., Hindus, Sikhs, Buddhists, Christians, etc., have been unmistakably manifest. Such people have no moral right to speak about India's minorities.
He said that the country that trains Islamic Jihadi terrorists and exports them to other countries, the country that carries on its head the grave sin of killing millions of unarmed and innocent people all over the world, its accusing India of causing regional instability is very ridiculous!
Shri Ram Janmabhoomi is the hub of reverence for Hindus all over the world. It was attacked by the commander of the foreign invader Babur. The Hindu society built a small temple on the site on Gita Jayanti Day in 1992 CE after breaking the invader's structure that symbolized an insult and stigma on Bharatvarsh. The Honourable Supreme Court of India gave that holy site to the Hindu society for constructing of bhagwan Shri Ram's Temple of Janmbhumi (Nativity). Sinful-Pakistan has no right to say anything about it.
Pakistan's concern over our Citizenship Amendment Act (CAA) is understandable, because this law has nothing to do with the Muslims of India, but it is surely related to giving shelter to the minorities from Pakistan, Bangladesh and Afghanistan in India and the law exposes the extent of barbarity of their ruthless atrocities. But if it is ashamed of it, why does it not protect its minorities? Even in this period of COVID-19 crisis, their houses are being broken, they are being forced to die of starvation, they are being inhumanly blackmailed in matter of distribution of food as they are being given food only if they become Muslims, their womenfolk are being abducted and shrines demolished!
The VHP Secretary General also said that we are proud that India has helped many countries around the world even in this period of global crisis, while walking on its path of Hindutva, i.e., another name for holistic, altruistic and syncretic worldview and paradigm. The whole world has appreciated the help of money, grains, medicines, doctors and medical equipments, etc., sent from Bharat. At the same time, Pakistan was busy stalling global efforts for help.