Mumbai.
On 16-04-2020, two Hindu Sadhus and their driver were brutally lynched in Palghar. A policeman is seen in the video literally handing over Shri Kalpvriksh Giri, 70, elder of the two Sadhus, to the murderous mob, after bringing him out of the safety of the Forest Deptt. chowki.
Three days after the incident are released videos of that horrendous murder.
Now, speculations that the Sadhus were sent off from the Highway supposedly by a Police party, cos either they didn't have permit papers or were just told that they couldn't proceed. Of course, the whole theory hinges on the fact that somebody knowing that the Sadhus would be travelling. Which isn't that much of a stretch if they had already asked for a permit, given the death. Also, there were reports of them getting restive. But, was the Juna Akhada just random or was there targetting?
There are reports that the Juna Akhara was supposedly also involved with some work in the Tribal belt. And that comes up smack against Left/Church interests. So what is this interest?
Sushil Giri Maharaj (35), Maharaj Kalpavriksha Giri (70) and driver Nilesh Telgade (30) were lynched to death by a mob while they were on their way to attend the funeral of their Guru Mahant Ram Giri Maharaj.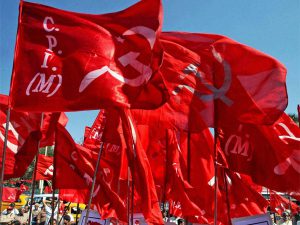 The 5 main accused are said to be "Jairam Dhak Bhavar from Divashi Gadagpada village, Mahesh Sitaram Rawate from Kinhavali Khoripada, Ganesh Devaji Rao from Divashi Wakipada, Ramdas Rupji Asare from Divashi Sathepada and Sunil Somaji Rawate from Divashi Patilpada village." All of whom are allegedly CPM activists.
The bail for all of them is being organised by Shiraz Bulsara wife of Peter D' Mello and the top official of an NGO called "Kashtakari Sanghatna".
Who is Peter D' Mello?
Peter born and raised in Bandra Mumbai, went to good city school and college, being from a rich family. He then became a Christian priest. After that, he signed an affidavit and adopted the name 'Pradip Deshbhakt Prabhu' as he started work here. He married his girlfried Shiraz Bulsara, a Parsi and a lawyer, (both taught at TISS from 2010 to 2013) converting TISS students to the leftist ideologues. They were instrumental in drafting the Forest Rights Act, 2006. He was close to Congress (Sonia Gandhi) and served on sub-committees of NAC.
They have an NGO named Kashtkari Sangathana.
Who are the Kashtakari Sanghatna?
After the Second Vatican Council held from 1962 to 1965, the Vatican had taken a decision approving a proposal to allow the Christian missionaries all over the world to "work among the poor and marginalised sections of people and to organise and empower them to fight against their dehumanising conditions."
Thus, in India in 1978, the "Kashtakari Sanghatana" was founded by Peter D'Mello, a Jesuit priest and two of his associates, namely Nicholas Cordazo and Sushila D'Souza in the tribal belt of Dahanu region in district Thane, inspired by Liberation Theology. The end result of all such 'Social Work' is generally 'conversion'.
Ever since its inception, the Kashtakari Sanghatana leaders have been inciting the local Adivasis in the area to take a hostile stance against the forest officials dubbing them as intruders into the Adivasis' domain and usurping their ancestral property. "They have also been encouraging them to encroach upon more and more forest land which was owned by their ancestors and hence rightfully
belonged to them and to put up stiff resistance." Thus, converting the Adivasis into a militant force.
Brian Lobo is a long time associate of Pradip & Shiraz, lives in Dahanu and manages Kashtakari Sanghatna, leads the opposition to Bullet Train project in the Palghar region. They were also instrumental in the 'Save Arrey' movement and holding up the Metro development.
Pradip Prabhu's links with Shramik Sanghatana and Bhoomi Sena; with militant tribal activist CK Janu, Chairperson of Adivasi Gotra Mahasabha of Kerala and his support to the tribals' agitation in Kerala, with CEHAT and OXFAM.
CM of Maharashtra, Uddhav Thackeray, has clarified that the lynching has no communal angle and is a clean, secular lynching.
The true portends of this lynching is deep. Very deep. This's just the chip of the tip of the iceberg. How deep does the iceberg go….?