Chennai (VSK). Narad Jayanti and Patrakaar Samman Samaroh was held in Chennai on 7th August, 2016. Journalists in various fields were rewarded for their contribution in the field of journalism. Sudharshan Ji All India Radio, Sriniivasan Ji Prime Point, Nijanthan Ji Win TV, Smt. Lokanayaki Ji Kumudham Snagithi received the award at the function conducted by Vishwa Samvad Kendra, Tamilnadu.
Veerabagu Ji, Vijayabharatham in the Presidential Speech narrated the resistance from the leftists', Dravidians which constituted 70% which has led to this situation of very many good things left untold whereas the bad things come to limelight with all glitter and hypocrisies projecting India not so safe or secure, which our media are doing with utmost deliberation. We all know that the truth is otherwise. Vishwa Samvad Kendra has always propagated ONE COUNTRY ONE PEOPLE, from Kashmir to Kanyakumari. They have trained students in encouraging their journalistic flair. In a recent HSSF fair, he regaled about how students worshipped teachers in the old traditional way and the participation of students in the Vivekananda Ratha Yatra. He also praised the honesty and the straight forwardness of 2 brothers who collect papers from houses in Rajasthan, when they found money in a cover worth Rs.1 lakh (a 1000 Rupee bundle of 100 no's) with a girl's name on it and the brothers searched each and every house they picked paper and lastly found the house and returned the money to the legitimate owners. Such good news doesn't come on the media ever that's the irony. He concluded by saying that Narad had a unique quality of saying news through stories.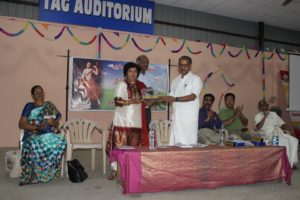 Sudharshan Ji of All India Radio in his speech said "people always thought of Narad as an object of criticism, though being son of Lord Brahma, the proverbial trouble shooter but the result always ended well. He was an exponent in music and knew to play instrument veena very well. Narad and hanuman share the honour of being chiranjeevis amongst 12 others. He is called the SUTRADHARI of Mahabharata, a TRILOK SANCHARI and an ideal Journalist. It was always believed that what problem was created by Narad always ended well. Now the scenario has changed, people have no Desh bhakti and have long forgotten people who have fought for our country's freedom. People have become selfish and have forgotten that Dharma not only teaches one to be with god also the bhakti bhavanas, emotions that goes with bhakti."
Niranjan Ji of Win TV in his speech shared the woes of the media that people have become used to watching and listening in English, that in Tamilnadu, Owing to the people not being so fluent in Tamizh mozhi, whether the right information and news reaches the mass? He voiced his concern over tamizh language being not so popularly used as it was once. And whether people would lose the comfort of using their mother tongue tamizh? This was not a threat few years back."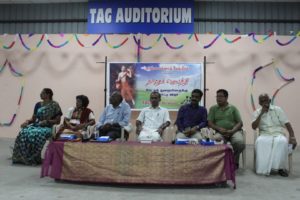 Smt. Loganayaki of Kumudham Snagithi in her speech praised the literary gathering having given the apt name Narad Jayanti, reminiscing her past. She emphasized on the parent guide to the children at young age. Appealing women on the need to have intelligence and knowledge, she said the times are changing from being a modern society now is going back to traditional ways.
Srinivasan Ji Prime Point said that Narad was a great communicator. It was Sanjayan who paved the way for Bhagavad Gita and Mahabharata. With the onslaught of the English media, he said we are making ourselves fully inferior. With his positive approach towards, educational loan, task force said that he set not as activists but as actionists. He encouraged everyone to celebrate the actions achievers and reiterated that 90% is good in media. For most of us very many good people are not known and we don't celebrate goodness in them. Lastly he said that DIGITAL JOURNALISM  is going to be the, THE THING."
Nanda Kumar Ji Akhil Bharatiya Sah Prachar Pramuk, RSS in his speech said that in Mahabharata there are 24 shlokas defining who Narad is, "one who knows several meanings for one word" "one meaning for several words". He emphasised that the meeting point of the Bharat was not there in media, as there was no oneness in thought and action by the media, where wrong reporting goes in the garb of FREEDOM OF EXPRESSIONand the truth never comes out, there is no nationalistic feeling at all.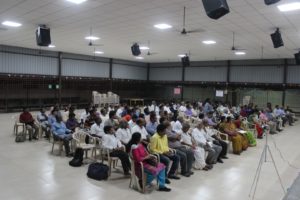 "Mahatma Gandhi Ji became a journalist in South Africa when he wrote for INDIAN OPINION in 1906, where he stated that 'A Journalist should be true to his faith, he should not write anything in anger or hatred and he should not write when he is idle and will not write to excite passion'. A Journalist should peep into himself and try to discover their weaknesses. He also quoted Mahatma Gandhi's words, often when his vanity dictated, he made his anger a harsh attitude and made it a terrible ordeal or Agni pareeksha".
Before freedom, journalism was a service, with the likes of Dr. Ambedkar, Dr. Hegdewar who played the role of journalists, thought that journalism was a spiritual training. But today journalism has become a trade and does not function with morals and ethics. Ultimate knowledge takes one to the Nar, Nara and Manushya forms differentiation. In Journalism full knowledge, about the subject matter should be there and proper cross check of the information should also be assessed. Narad manifested DHARMIC PRINCIPLES in Ramayana where he sung 64 qualities of Rama and DHARMIC TWIST in Mahabharata. NARAD SMRITI is well known for Narad qualities and for everyone to know about him well."
Pens can be mightier than swords….when media and literature can make huge impact in the minds of the people, they become the mightiest tool for COMMUNICATION, with ultimate truth put to test, it's for the media to come out clean without being partial, giving no room for hypocrisies and being consistent to earn the good faith of the people," said Nandakumar.
With a vote of thanks and Vande Mataram the function concluded with around 145 participants.