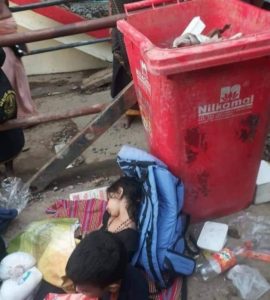 A picture of a young tired Malikappuram (girl pilgrims below 10 years are addressed as Malikappuram) taking rest after rigorous 5-km trek of the Sabarimala hills beside a filth-filled dustbin with garbage strewn all around will break the heart of any devotee. The picture tells the story of apathy of the Pinarayi Vijayan government towards Sabarimala pilgrims. Basic facilities at the base camp of Pampa and Sannidhanam are in a pathetic state. Pampa which was ravished by the recent floods is yet to be rebuilt. The hospital at Pampa doesn't have a doctor or other facilities. Toilets and other facilities are in a bad condition. Many devotees go to the wild for addressing the call of the nature. There is not enough drinking water. On the top of it is the harassment of the police who have descended in large numbers. "In the name of facilities, the government has deployed 15,000 cops. Never in my life have I seen so many cops in Sabarimala. They are there to harass us," said a devotee who has come from Tamil Nadu.
Meanwhile, the police imposed several restrictions in Sabarimala which led to protests by devotees. "I am not allowed to perform abhishekam. They are asking me go out: I cannot have water. They simply want to say 'you don't come here'. They are out to destroy Sabarimala," says Muruga Swami, who came with 40 devotees from Coimbatore.
Rajesh Kumar, another devotee who came with his two kids, said, "They (LDF) came to power promising to set right everything. Is this the way they are setting right everything? The police are terrorizing us. We don't have any facilities here. They (police) are not allowing us to even drink water."
Tantri Samajam's statement
In the wake of arrest of several devotees by police, Tantri Samajam, the organisation of chief priests, has stated that to arrest the people who have left homes for Sabarimala darshan with the " iru mudi" is the violation of the tradition.
Once iru mudi is filled it has to be opened at the temple. To go back without darshan is violation of the tradition. "This is deplorable," said a spokesperson of the Samajam.
T Satisan