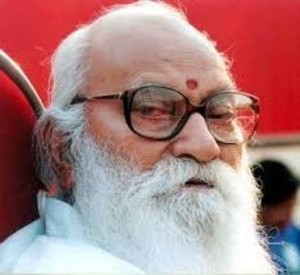 New Delhi. Prime Minister Narendra Modi, RSS Sahasarakaryavah Dattatreya Hosabale on Saturday October 11, released a 6-volume book Virat Purush, on Sangh ideologue Nanaji Deshmukh at a packed Vigyan Bhawan auditorium, New Delhi. Senior RSS Pracharak Madan Das Devi also attended the book release event.
Sahsarkaryavah of RSS, Shri Dattatreya Hosabale said that after renouncing politics, Nanaji worked for 33 years for the cause of rural development.
'Viraat-Purush Nanaji', a six volume work compiled by the Deendayal Research Institute, is a collection of the writings of Nanaji. Talking about the publication, Modi hoped it would nudge future generations towards nation building.
Veteran BJP leader LK Advani, Sarkaryavah of RSS Shri Bhayyaji Joshi, Gujarat Governor OP Kohli and Union Ministers Thawar Chand Gehlot and Harsh Vardhan were among those present at the event.
Prime Minister Narendra Modi today paid tributes to social activist and Bharatiya Jan Sangh leader Nanaji Deshmukh and social reformer Jaiprakash Narayan on their birth anniversary, saying their work continues to be a source of inspiration for the people.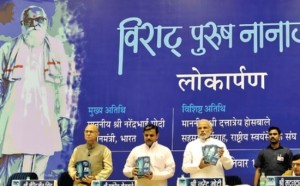 "Tributes to Nanaji Deshmukh on his birth anniversary. His organisation skills and efforts to serve society are a source of inspiration for us," the Prime Minister said on his 98th birth anniversary.
He also said that Loknayak Jayprakash Narayan was a true nationalist who devoted his life to service and nation building.
"Tributes on his birth anniversary. JP's call for 'Sampoorna Kranti' galvanised the entire nation and played a historic role in preserving Bharat's democratic fabric," the Prime Minister said in a message on Narayan's 112nd birth anniversary.