Guwahati. Pragjyotishpur Literature Festival organised by Shankardev Education and Research Foundation slated to be held from 29th September to 1st October 2023 in Guwahati at District Library Auditorium and Sahitya Sabha Bhavan is all set to be one of the most promising literature festivals of our times. With a motley of events like Keynote Talk, Panel Discussions, Author Speak, Workshop on Creative Writing, Prize Money Quiz, In Conversation, Multi Lingual Poetry Session, Book Launches it will bring together a host of celebrity authors and personalities from across the country.
The topics for discussions are varied and informative. Some of the topics are- Exploring Tradition through Literature, Regional Indian Literature: Lost and Found in Translation, Contemporary Nature Writing, Assam through the Cinematic Lens among others. Writers from the state as well as from across the country will deliver on these as panellists. Apart from panel discussions there will be interactive sessions with authors Dr. Pankaj Chaturvedi, a renowned poet, critic, children's literature writer from Delhi and Sahitya Academy awardee Anuradha Sarma Pujari who needs no introduction.
Chairperson of National Book Trust Milind Sudhakar Marathe who himself is a versatile writer and critic will be the Chief Guest in the Inaugural Session while Padmashree awardee Lil Bahadur Chhetri notable Gorkha writer from Assam will be the Guest of Honour.
The keynote speech will be presented by eminent news anchor Rubika Liyaquat.
Award winning authors and critics like Suvash Chandra Satapathy (Bhubaneshwar) and Dr. Bhushan Bhave (Goa) will deliver in various sessions on pertinent topics and discussions. In addition, writers, media and film personalities from Assam will also take part in various events as moderators and speakers.
Distinguished author and speaker Atanu Bhattacharyya will be holding a session on Creative Writing for students of undergraduate and postgraduate levels. A number of books of various genres will also be launched. Another very interesting event would be the Multi Lingual Poetry Session where poets writing in different languages of Assam like Assamese, Bodo, Karbi, Mishing, Nepali, Bengali, Rabha, Tiwa and others will come together to recite their self- composed poems and regale the listeners.
Pragjyotishpur Literature Festival also announces the presentation of two awards to two eminent writers. The awards will be presented in two categories- one for a prominent writer above forty years of age and the other for an upcoming writer below the age of forty.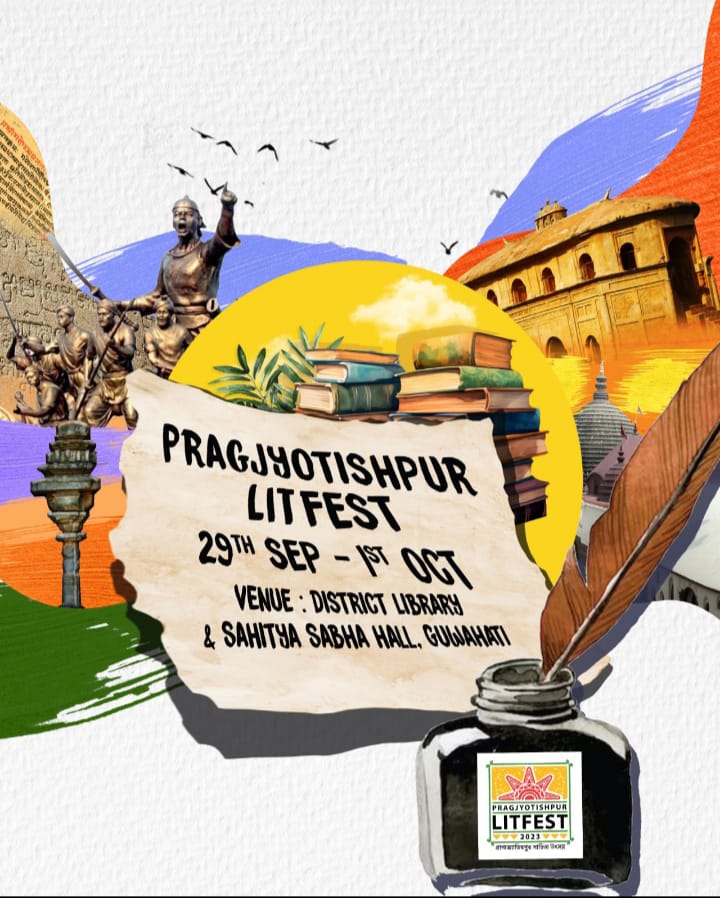 The theme of the LitFest – In Search of Roots – becomes vital when we talk of culture and traditions. It is imperative that the younger generation understands the root that we bear our allegiance to. Through a variety of talks and discussions the LitFest aims at creating an atmosphere of reading, idea sharing and thus creating art or literature which is unique to the civilisation that we are emissaries of. This LitFest respects Bharat's great tradition of unity in diversity. We strongly believe that diversities are not differences, rather are expressions of the spiritual and philosophical unity inherent in all of us. Diversity, like the various colours of a rainbow, are all part of the one whole which is Bharat in its entity. The national level festival is aimed at showcasing the rich cultural heritage of the land and also encouraging young minds to rediscover and redefine the legends of Pragjyotishpur.
Pragjyotishpur was an abode of learning, publications and intellectual exercises as these were the oldest traditions and practices for the residents. Many valuable books were written in this part of the world, where Madhav Kandali's Ramayana in a local language signifies the dimension and intellectual capacity of an author. The society used to promote the learning and redefining of general science, Ayurveda and traditional healthcare, Astrology, craftsmanship and both performing & visual arts. The residents still carry the legacy of ancient Indian culture, developed since the pre- historic days.
In addition to academic activities the LitFest will also highlight on the culture and tradition of the state through cultural events which are also a part of the festival.
Meanwhile pre-events to the LitFest have been organised in various parts of Assam like Bholanath College, Dhubri, Hanumanbax Surajmall Kanoi College, Dibrugarh, Dhemaji Balika Mahavidyalaya, Dhemaji, North Lakhimpur College where a healthy discussion on literature and the importance of such festivals in our society was deliberated on. Students and faculty alike took active part in activities like recitation, talks, book readings and others.