Seminar on "Decolonisation of Indian Mind" organised by Bharatiya Vichar Manch was duly attended by intellectuals from 19 states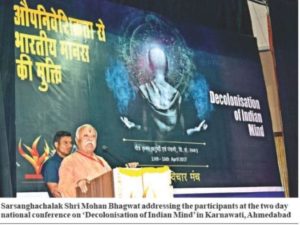 "Our knowledge has increased by this seminar but we should not keep it to ourselves. We should connect with masses at places like colleges, universities and study one subject over a period of time.  We have to make the general masses aware about decolonisation. People from other states also should organise such seminars", was the message of RSS Sarsanghachalak Shri Mohan Bhagwat in his concluding remarks at the two-day national conference on 'Decolonisation of Indian Mind', organised in Karnawati (Ahmadabad) on April 15 and 16, 2017. Bharatiya Vichar Manch which is celebrating its silver jubilee year was the organiser. The registration was to be done only through online. More than 800 persons got themselves registered out of which 683 people, from 19 states of Bharat, were present on the occasion.
Shri Bhagwat further said that the Bharatiya Vichar Manch organises such seminars every year. Its purpose is to change the direction of dialogue-deliberation of the country. The discourses given by speakers are of a very high level not due to their study, but because they have come from their heart. For this, they may have suffered but they have not got deviated from their paths. We have to prepare ourselves like those speakers to win the intellectual war. We have to fight collectively, Shri Bhagwat emphasised.
We have to decolonise ourselves first. Shri Guruji said that Marx talked about violence because he saw atrocities. Thus Guruji was able to see compassion behind Marx's thoughts. We must keep Sarvesham Avirodhen (we accept everyone without resistance) vision in mind, said Sarsanghachalak.
The occasion was marked by the presence of a galaxy of speakers.  On the first day, the ball was set in motion by Shri Suresh Soni, Sahsarkaryavah of the RSS. In his keynote address, he said, "Dialogue and brainstorming is a very old custom of Bharat. Extracts of such process were thrown away without shedding a drop of tear if such extracts were found useless. When a civilisation attacks another, that civilisation influences the mind of defeated people. The old system is broken down. The danger of full destruction arises. At that time, one group comes forward taking inspiration from original elements of defeated civilisation. Arnold J Toynbee a British historian called this group as 'Creative Minority'." After explaining the process of intellectual colonisation Shri Soni suggested the remedy of 'Self-realisation i.e. Atma Sakshatkar. According to him the prescription given by Pt Deendayal Upadhyaya is the key, "Make whatever is foreign in tune with our ethos and whatever is domestic, retune it as per changing times."
Prof Kapil Kapoor, the former Pro Vice-Chancellor of JNU, spoke on 'How to De-subjugate the Mind'.  He elaborated that even though, our countrymen are multi-linguist, multi-religious, but our Chaitanya (consciousness) is one. That's why we think alike. Our civilisation is knowledge centred, he said.