Chennai. Yet another protest demonstration was organised by Hindu Munnani and parivar organisations on July 2nd calling upon the Tamil Nadu Government for speedy action and arrest of the killers of Hindu leaders in the State. Recently, Sri KPS Suresh was suddenly attacked and murdered by unidentified gang causing serious injuries to his face, neck and body.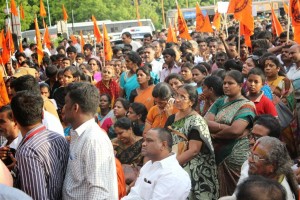 VHP State Secretary Sri Meyyappan appealed that Indian Muslims should join hands with Nationalist forces to fight against terrorism.  As per IB report, 300 terrorists are roaming freely in Tamilnadu. Sri Parameshwaran, Hindu Munnani questioned the slow action by the Government in arresting the miscreants.  Sri L Ganesan appealed to media and the Government that the murders of Hindu leaders are not of recent months or year (as being reported in media), but backs to decades.  He further threw light on the list of murders happened in Tamilnadu. Sri Durai Shankar strongly condemned the spread of Islamic fundamentalists in the State.
Sri Muthuramalingam ABVP, Sri Palanichamy, BMS, Sri Meyyappan VHP, Smt Padma, Rashtriya Sevika Samiti, Sri Durai Shankar, RSS Vibhag Sanghachalak, Sri Parameswaran Hindu Munnani, Sri L Ganesan BJP, Sri Ramagopalan, founder Hindu Munnani spoke on the occasion.
Sri Ramagopalan called upon the citizens to fight democratically.  He also appealed the Tamilnadu Government that a sum of rupees ten lakhs along with a Government Job be given to the aggrieved family.
Around 2200 activists from parivar organisations participated in the protest demonstration.