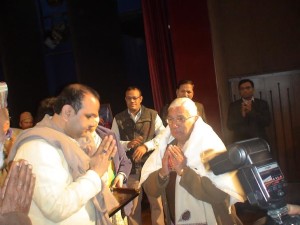 New Delhi (ivsk). The Purva Sainik Sewa Parishad celebrates Vijay Diwas on the anniversary of the historic victory of Bharat and aims to spread awareness among the youth about the Bharatiya army and the ideals of patriotism.
Mahesh Giri, MP, informed the audience about the role of the Army men in the Bharatiya history. He quoted that our jananis' (mothers) should give birth only to saints, valorous soldiers, or humaknitarian citizens. He also recalled the Prime Minister Narendra Modi's noble approach to celebrate Diwali in Siachin with Army personnel.
On this occasion, the families of Major Shree Kumar (Kirti Chakra), Captain Anuj (Mahavir Chakra), Captain Sameer Bhan, Lance Nayak, Satbir Singh, Nayak Sardar Singh were honoured on the behalf of the latter for their sacrifices by MP Mahesh Giri . Veena Sharma, the ex-Nigam Parshad lamented the understated appreciation of these Army personnel who sacrificed their lives for the nation.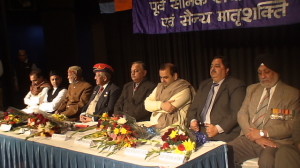 Vijay Diwas event was organised by Delhi State unit of Purva Sainik Sewa Parishad at Katyayini Sabhagar, Pocket- III, Mayur Vihar, Phase I Delhi. Various ex-army personnel attended and participated in this programme which was presided by Maj. General Narendra Nath Gupta, Chairman Purva Sainik Sewa Parishad, Delhi, Chief Guest, Mahesh Giri, Member of Parliament, East Delhi, Parliamentary constituency of Bhartiya Janta Party, special guest Ajayveer Sehgal, Chairman Surya Telecom Pvt. Ltd., Virendra Sachdeva, Chairman, Teerandazi Sangh, Delhi, Hon'ble Guest Air Vice Marshal H P Singh (Veer Chakra Sewa Medal), Brig. Swendra Sareen, Rashtriya Mahamantri, Chief Speaker Manoj Sinha, Principal, Aryabhatt College, Delhi University and Programme Co-ordinator and Organising Secretary, Purva Sainik Sewa Parishad, Delhi, Jai Prakash Sharma..
Earlier on this occasion, Maj. Gen. Narendra Nath informed the gathering about the role of Purva Sainik Sewa Parishad, while Manoj Sinha, Pricipal of Aryabhatt College, University of Delhi suggested the politicians to be careful on the political tables while discussing issues regarding national security and defence equipments and roles and also remember the revered soldiers and people who sacrificed their lives for the nation.
The event ended amidst a loud roar of applause with a vote of thanks by Wing Commander P L Mahendru and echoing notes of the National Anthem.