Spoorthi Muralidhar
Queen – What can you imagine after hearing this word? A beautiful woman clad in pearl white gown, decked up with shiny jewellery, neat makeup and a veil covering her seamless face!
The "West's idea of Queen" has gotten so much into us that, we want her to be a social stereotyped, perfect figured, beautiful woman to be fit to be a queen! Whilst all these, let me introduce before you a dark skinned, glowy eyed, confident woman clad in a cotton saree, decked with hands full of gold jewellery, holding a bowl, feeding her son. Who do you see? A Queen or your own mother?
Does it not feel like you are picturising your own "Amma" in the above narration?
That is Kittur Rani Chennamma to you! Not just a QUEEN who satisfies your social stereotype but one woman who upheld the queenhood in every Indian woman! The moment we hear Kittur Rani Chennamma we think of a fierce woman fighting against the British Empire, riding a horse, shouting "Hara Hara Mahadeva" on the battlefield with a "no mercy" expression on her face! But, but… Have we ever thought about the pains behind those fierce screams, scars behind those armors and challenges behind those "no mercy" looks?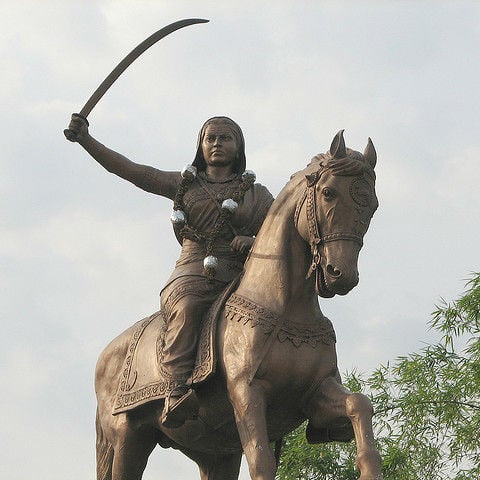 Today, as we pay tributes to the first woman freedom fighter of the state, I am here to bring before you the "Motherhood" no one ever spoke about, the "leader" that no one ever identified, the "Home maker" that no one bothered to see, the "Pains of a widow" no one cared to listen to!
In the chakkar of "Empowerment of women" we have always wanted our girls to shine bright "IN SPITE" of being girls and we emphasize much on the fact that SHE has achieved this big IN SPITE of being a girl! This was also the fate of Rani Chennamma who is identified as a fierce fighter IN SPITE of being a woman! Reflecting on the society's expectation and belief that a woman naturally shouldn't be brave or fierce as it defines!
Again, looking at the other side of the story, while everyone is busy applauding Rani Chennamma for her bravery, her grief of losing husband at a very tender age was forgotten, the hardships faced while managing the affairs of the kingdom were ignored, motherly instinct in raising and nurturing her child was never even noticed!
She was called "Amma" by the subjects who was very fond and took care of every citizen in the kingdom as her own child! But all these while we have only been busy about her "HERO"ism because SHE was born a woman and did all these overcoming her gender BARRIER!
Paying tributes to the Rani on this day is a very appreciable thing but, it's high time that we don't label bravery as a manly thing or portray a woman's achievement as "overcoming gender bias", or defining what "empowerment" is according to our standards!
Let's embrace the motherhood, the struggles, the scars, the pains and every step towards achieving something big! Let's embrace the QUEENHOOD in every Indian woman. "Queen" is not a person like the west believes, it's a personality that every Indian woman possesses!
VSK Karnataka