Visakhapatnam. The cyclone HUDHUD in Andhra Pradesh has created a massive storm of terror. In the districts of Vizianagaram, Srikakulam and Visakhapattanam everything has fallen apart. There are fallen trees on the roads, cracked roads, damaged vehicles, damaged power poles, damaged houses. Tourist destinations have been damaged due to the cyclone making it look like forests .
Due to the cyclone from Oct- 10 to Oct-16 , four days in a row there is no water to drink, food to eat, not even electricity. Children does not have milk to drink , no food to eat , no petrol for vehicles , no communication between family and friends because the communication networks are cut off .
 Although the cyclone caused heavy damage to properties /assets and lead people with no basic amenities, at least there is no heavy loss of lives. Water flooded even more in low level areas, forcing people to take refuge in camps. There is a need to rehabilitate them,  RSS expressed their concerns over the loss of life, loss of properties. Many Swayamsevaks travelled to the affected areas and offering help to victims. For this purpose a group of swayamsevaks formed "Janakshema samiti "and started helping the victims.Swayamsevaks  are working with government authorities in parallel , cleared the blocked roads offered basic amenities like water and food to the victims .The Janakshema samiti appeals to the  public that  "there is a great need for large scale rehabilitation programmes for the victims of Cyclone, for which we need public support ". Sahayanidhi account has been set up by janasamkhema samiti .
Please help our brothers and sisters by donating how much ever you can "Your help can be send to the online account in Vijayawada
A/c No. 002601000013455
Indian Overseas Bank,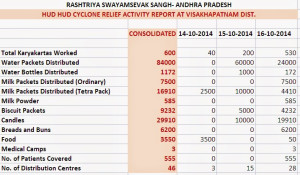 Governorpet, Vijayawada-2.
IFSC Code : IOBA0000026.