RSS annual report presented by Sarkaryavah Bhayya ji joshi in Akhil Bharatiya Pratinidhi Sabha 2015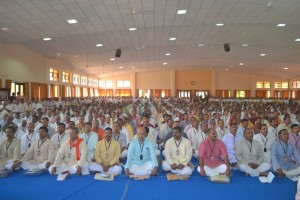 At the outset, I heartily welcome Param Poojaneeya Sarsanghachalakji, all the respected Akhil Bharatiya Padadhikaris, members of the Akhil Bharatiya Karyakari Mandal, Esteemed Kshetra and Prant Sanghachalaks and Karyvahs, newly elected members of the Akhil Bharatiya Pratinidhi Sabha, and the sisters and brothers, who have been engaged in different social activities and attending this session as invitees to the Akhil Bharatiya Pradhinidhi Sabha being held on the holy soils of Nagpur. It is likely that some of our brothers will be attending this sabha for the first time.
Homage :
After the last Karyakari Mandal Baithak some of the noble souls who were always with us and used to provide guidance since many years are no more. We have lost some of the great people who had made their place amidst the masses in social and political field.
Mananeeya Sanghachaalak of Dakshin Madhya Kshetra Shri.T. V. Deshmukhji whose life was dedicated to Sangh and an ideal of the swayamsevaks has left us forever after battling against cancer. Shri Jeetubhai Sanghvi's journey of life suddenly ended after spending a long pracharak life in Gujarat. Dr. Ramgopalji who had shouldered the various responsibilities of the Vanvasi Kalyan Ashram and especially strengthened the work in the East and North-East kshetra passed away after struggling with cancer. Shri. Narendrasinghji, Saha- Sanghatan Mantri of Purva Sainik Seva Parishad who played a significant role in the expansion of sangh work in the Bihar Prant is no more amidst us. Pracharak Shri Tarunkumarji who had been shouldering the responsibility of Jaipur Mahanagar passed away in a railway accident. Shri. Shridhar Acharya a senior pracharak, carrying out various responsibilities of Vishva Hindu Parishad is also no more amidst us. He had begun his journey of pracharak from the Karnatak Prant.
Mananeeya Sanghchaalak of Kolkata Shri. Vishwanathji Mukherjee, Working President of Akhil Bhartiya Sahitya Parishad Shri Yatindraji Tiwari, a well known figure in the field of literature and journalism & former National General Secretory of ABVP from Bhagyanagar Shri P.Vyankateshvaralu, former chief of ISRO Shri Vasantrao Gowarikar who was honoured with Padmavibhushan, Shrimati Mrunalinidevi a member of the royal family of Vadodara Gujarat have all left for the heavenly abode.
Well known actor of the film world Shri Sadashiv Amrapurkar, director of the serial Mahabharat Shri Ravi Chopraji, Film Comedian Shri Deven Varmaji, film artists Shri Upendra Trivediji from Gujarat, "Chakri"alias Shri G. Chakradharji from Bhagyanagar are no more.
The departed souls like the talented cartoonist Shri R.K.Laxman and his image of "common man," Justice Shri V. R. Krishna Iyerji, whose name is synonymous with commitment and brilliance in the field of law, noted columnist and cartoonist from Delhi Shri Rajinder Puri, founder editor of daily Pioneer and Outlook magazine Shri Vinod ji Mehta, former member of planning commission Shri Rajani Kothari,will always remain in our memory.
Shri M. F. Bloh who played an effective role in Swadharma Jaagran Sanghatan 'Sengkhasi' in Meghalaya and the "Doloy" (Religious and Administrtive Chief) of Panaar tribe Shri K.C. Rymbai who always preached "Swadharma" with determination, have proceeded on their last journey. Pujya Mahamandaleshwar Swami Piyavat Brahmachariji, resident of Bangladesh who had been guiding the Hindu Samaj and Head of Tevakke Matham Poojya Shankaranand Bramhanandbhuti Muppil Swamiyar ji has been laid to rest.
Leader of the movement for Gorakhboomi Shri Subhash Ghising of Bengal, Member of Parliament and former Union Minister Shri Murli Deoraji, former Chief Minister of Maharashtra Shri Abdul Rehman Antulayji, former Home Minister of Maharashtra Shri R. R. Patilji, former chief minister of Haryana Shri master Hukumsingh, founder member of Communist Marxist party Shri. M. P. Raghavanand an intense exponent of communist ideas Shri Govind Pansareji, all of them played an effective role in the political field have passed away in the flow of time.
On this occasion we remember the people who have lost their lives in various natural calamities as well as in terrorist attacks and the defence and security personnel who have sacrificed their lives for the protection of the country.
Akhil Bhartiya Pratinidhi Sabha expresses profound sorrow, conveys deep condolences to the bereaved families and pays homage to the departed souls.
Present Status of Sangha Work :
We had started working on an expansion plan according to the deliberations made in the Akhil Bharteeya Pratinidhi Sabha held at Nagpur in 2012. After three years of continuous efforts satisfactory results have come forward. In comparison to 2012 there has been an increase of 5161 Sthan and 10413 Shakhas. In the same way there has been an increase in the number of Saptahik Milan and Sangh Mandali. According to the report compiled at present there are 51330 Shakhas at 33222 Sthan. 12847 Saptahik Milan and 9008 Sangh Mandali. The number of Shakhas of young students is 6077. We have reached to a total of 55010 Sthan.
In the sangh shiksha varga conducted last year after March, in the Pratham Varsha Samanya and Vishesh, 15332 Swayamsevaks from 9609 Sthan participated in 59 Varga. For the Dwitiya Varsha Samanya and Vishesh Varga 3531 Swayamsevaks from 2902 Sthan participated in 16 Varga. In the Tritiya Varsha 709 Swayamsevaks participated from 657 Sthan. In this period in the Prathmik Varga of various Prants there was a good number of representations of trainees from the villages too. In all there were 80409 trainees from 23812 Shakhas.
P.P. Sarsanghachalakji's Tour in 2014-15 :
In kshetra wise tour along with the organizational meetings some special programmes were planned and in Vishesh Sampark Yojana meetings with various dignitaries were arranged. A one day Prant level gathering of Devgiri Prant and winter conference at Imphal- both these programmes proved very inspiring due to the intensive efforts of the karyakartas and cooperation from the society. The Mahavidyalayeen Chhatra Shivir at Braj and Uttarakhanda were very effective from the planning and attendance point of view.
In the programmes conducted for dialogue at some places, the presence of the Chiefs of Media, Judges, educationists, Government Officers, Saints, litterateurs and distinguished personalities is especially noteworthy.
With respect to special contacts, Sarsanghachaalak ji met the chief of Mangalyaan yojna shri Mannadurai, Nobel Prize winner Kailash Satyarthi, Acharya Mahashraman ji, Bhante Rahul Bodhiji, Swami Dayananda Saraswatiji and Maharaja of Puri Shri Gajapatiji.
Mananeey Sarkaryavahji's Tour: 2014-15 :
In this year's tour plan a special meeting was called along with the various organizational meetings at all the places. In relation to Karyavistaar (expansion work), with a view to spreading work to as many villages as possible, a plan was made to establish contacts with the places on the main routes of the district. Some select people were invited from such places.
In the pravaas plan 15 baithaks were organized in 11 Kshetras in which 2919 people from 1522 grams in 34 districts were present. Effective ideas were discussed in all the meetings regarding the structure in the coming period. In these meeting the percentage of newly established contacts was 40%. A positive and favourable atmosphere was experienced. If the planning is done with proper integrity, it will definitely have a good outcome.
In some Kshetras meeting of the pramukh karyakartas of various activities was held. It can be said that especially the work of Dharmajaagran samanvay vibhaag is progressing in a well planned manner.
Karyakarta Vikas Varg :
For enhancing the potential of Karyakartas "Karyakarta Vikas Varga" was taken into consideration. With a view to strengthening those shouldering the responsibility of Zilla & Vibhag the syllabus was accordingly prepared. These vargas would be conducted Kshetra wise. In the year 2014-15 the vargas of Madhya Kshetra and Uttar-Paschim Kshetra were conducted. The experience was encouraging. Every year Kshetra wise vargas would be conducted.
Karya Vibhaag Vrutta:
1) Shaaririk Vibhaag :  As compared to the last year this year's Prahaar Mahayagya saw an increase in the participating Shakhas, swayamsevaks, total prahaars, number of swayamsevaks charging more than 1000 prahaars. Participation from more than 50 percent of total Shakhas, 3 Lakh 27 thousand swayamsevaks, 15 crore 80 lakhs prahaars and 90 percent swayamsevaks below the age of 45 was a matter of special significance.
This year a special training class of Malkhamb was organised at Ujjain for Baal swayamsevaks, in which 54 Baal and kishor swayamsevaks from 26 Prants participated.
In the Ghosh Pramukh Baithak there was a representation from 34 Prants. Aasan- Yog varga was also conducted in which 101 selected swayamsevaks from 38 Prants participated.
2) Bouddhik Vibhaag : This year the Bouddhik Vibhag organised a special "Akhil Bhartiya Bouddhik Abhyaas Varga" at Bhopal. In this varga, the bouddhiks by Sangh Adhikaris on the topics- 1) Hindutva-Hindu Rashtra,, 2) Samaajik Samarasta, 3) Vikaas ki Avdharana (Concept of development), 4) The essence of Jain, Buddha and Sikh religions, 5) Matrushakti were followed by group wise intense discussions and question- answers and guidance by Parampujya Sarsanghachaalakji. 194 swaymasevaks were present in this varga.
This year there was a comprehensive discussion on the three words -Rashtriya, Swayamsevak and Sangh in all the Shakhas. Two Bouddhik vargas on the life of Parampujya Doctor ji were also organised in all the Shakhas. Nearly in all the Prants workshops on this topic were also held for karyakartas.
3) Prachar Vibhag :  On the occasion of Narad Jayanti, the annual feature programme of felicitating of journalists was organised at 118 places. Total 3401 journalists and other people were present in the programmes. Prachar vibhaag is in contact with 355 columnists. Training was conducted for the management of community radio and panel discussions on television. As a result 217 Karyakartas are regularly appearing in 68 channels. In Pune and Kolkata special 'Introduction to RSS' programs were arranged for journalists, in which women journalists also participated in significant number. Through Jaagran Patrika 2 Lakh 27 thousand Villages are in contact. This year 12,652 swayamsevaks participated in the campaigns to sale literature at 912 places.
Special Programmes conducted in the Prants
Historic Pathsanchalan-Tamilnadu:- This year marks the completion of 1000 years of the Coronation of Raja Rajendra Chol. On this occasion various programmes were organized in different localities. The Karyakartas of Tamilnadu planned to conduct route marches in all the district centers on 9 November 2014. Due to political pressures the administration denied permission. The issue was taken to court. The court gave the decision in favour of the sangh stating that prohibition of route march is incorrect. But the administration was obstinate. Still the karyakartas decided to conduct the route march as planned. Men and women from the city participated in the route march at the district centers. 35000 brothers and sisters were arrested. This programme revealed unprecedented energy and determination.
The Rashtriya Swayamsevak Sangh which works legally and legitimately was refused permission for route march in uniform under some section of law prevailing since the British period. It only indicates despotism of Tamilnadu government. For this action of the administration a case was filed for the contempt of court orders.
'Samartha Bharat'- Karnatak Dakshin :- Karnatak Dakshin Prant did an innovative experiment. A two-day seminar was organized on the concept of 'Samartha Bharat' at Bengaluru.
The youth power which desires to do something for the country and society was provided a platform for their discussions, interactions through this program. Online registrations were evoked through social media. In response 3852 youths participated from Karnataka Dakshin Prant in this two day's program. The programme was in the form of group discussions. 48 topics were decided for discussions. The participants received an opportunity to interact and discuss with the experienced experts from the social field. A special exhibition depicting seva karya and various challenges was put up at the shivir.
Gram Vikas (Village development), service in seva basti, water harvesting, volunteerism, women problems, educational projects, environment, ideological movement, problems of mentally retarded, handicapped etc were discussed.
The overall planning of the program can be described as 'Theme for Team and Team for Theme' ('Samuha hetu Sankalpana' aur 'Sankalpana hetu Samuha'). The result was that 77 youths aspired to dedicate themselves for one year in the service of the nation.
This programme made us realize that the youths are ready to dedicate their services, time, energy and intellect for the welfare of the society if proper planning, guidance is provided. This experiment of Karnataka Dakshin is worth emulating.
Efforts for Social harmony through Saaptahik Milan : Â Gram Osanda of Dapoli Tehsil in Ratnagiri district of Kokan prant always faced acute problem of drinking water. The villagers of this village with their collective efforts made a plan to solve this problem. For this purpose donations were collected from all the families in the village. It was revealed that 16 families were ostracized from the village. The weekly meetings of the vyavasaayi swayamsevaks (working & professionals) were already being conducted since past one and half years in the village. All the swayamsevaks strived hard towards social harmony by discussing and conversing with people in every basti and every community. There was a discussion on this serious issue in the village meeting (Gram sabha). Efforts began to unite the 16 ostracized families honourably with the other families of the village. 4 months of ceaseless efforts saw positive atmosphere setting in. The result was that the villagers themselves wrote a letter to the village head informing him that the problem has been solved. Today all the families live happily together. All have praised the efforts of the swayamsevaks.
'Mahasangam'-Devgiri Prant :- Visualizing the idea of work expansion the Devgiri Prant organized a 'Mahasangam' on 11 January 2015. A yearlong chain of events were designed and through extensive contacts efforts were made to reach the Mandal units. There were block wise meetings (Khand level Baithak) organized in each of the 123 khandas in the Prants. 3 months prior to the commencement of the programme the registration was stopped. Till then 60000 people had already registered.
The programme was attended by 42870 svayamsevaks from 1223 mandals, 686 bastis and other 3186 Sthan. Attendance of around 25000 men and women is especially noteworthy.
In this mahasangam 60% attendance was from 15-40 age groups. As a part of food arrangement 2.50 lakhs of Rotis were collected from 20000 families. With the view of work expansion in the prant this mahasangam event proved to be very effective. There was a considerable increase in the numbers of Shakhas, Milans and Mandlis.
Karyakarta Shivir, Gujrat : The idea of such a shivir was conceptualized three years ago. To become a karyakarta it was necessary for a swayamsevak to be of 13 years of age or more and be shouldering some or other responsibility from Shakha toli to the top. The registration procedure was then begun and completed 3 months prior to the commencement of the shivir. There was representation from all the Zillas and tehsils. In all 14370 karyakartas were present from 1084 Mandals from 2165 Sthan, karyakartas from 786 bastis of 4 Mahanagars, karyakartas from 819 bastis from other nagars were present. 79% of karyakartas were under the age of 40. The exhibition became the centre of attention. Students from various schools in the city and other people also visited the exhibition at the shivir site. 3 conferences of matrushakti, teachers and saints were organized respectively. Blessings of Param Pujya Dandi Swami Sadanand Saraswati of Dwarika Sharda peeth were received at the valedictory function.
Rashtra Sadhna Sammelan, Yavatmal –Vidarbha:- On 11th January 2015 "Rashtra Sadhna Sammelan" was organized at Yavatmal Vibhaag in the Vidarbha Prant. The expansion and consolidation of work successfully worked up to the expectation.
The karyakartas from every tehsil, district and vibhag level went from place to place as vistaaraks for 3 to 7 days for the preparation of sammelan. 12 karyakartas stepped out as vistaraks for one to one and half month. The result was that 5767 swayamsevaks were present from 24 tehsils, all 24 nagar bastis, and from 469 Grams, swayamsevaks from 206 mandals out of 261 mandals attended the sammelan.
The shaaririk karyakram was appreciated in the sammelan. Presence of the eminent citizens and representatives of the place was especially remarkable. For environment concern, there was no use of plastic in the whole programme. Before the main programme there was a route march from 3 places. Many distinguished citizens were invited to attend the sammelan via the welcome committee. Subsequent planning (anuvartan) has also been done.
Mahavidyalayeen Karya, Malva :  For this work an annual plan was chalked out. Utsav, sanchalan, etc programmes were focused for college students. In the winter shivir 1238 mahavidyalayeen swayamsevaks were present. A one day seminar on the topic "Parivartan ka Vaahak-Pradhyapak" was organized. 184 professors attended the seminar. For the medical students "sangh parichay" varga was organized in which 126 students from 12 colleges participated.
Mahakaushal Prant : Â The report of the three programmes of the Mahakaushal Prant is also very enthusiastic.
1) Vyapak Sampark Yojana- With a view to increasing the work in all Bastis in the Nagar Kshetra, a plan was made. From 1 to 7 October, in this period in the 1107 bastis of 157 nagars with the view to establish contacts with families, Gatnayaks were decided. In all 317264 families were contacted by 7254 sawayamsevaks. The information regarding Sangha along with a list of swadeshi goods for daily use was given in all the houses. In future work will definitely be started through new activities in the bastis.
2) Vistarak Yojana : Â  From 1 to 15 December, in this period it was planned that as many swayamsevaks as possible should set out for vistaarak work. From 17 Zillas of the Prant, from 62 nagars, from 288 Shakhas, 839 vistaaraks emerged for 7 days and more. The outcome was that Shakhas were started in 249 new locations. This year in the Prant, in the prathamik shiksha varga 6,111 trainees participated from 2884 Sthan.
3) Swasthya Shivir :   With the cooperation of seva bharati, 17 swasthya shivirs were organized in 7 Zillas by the Seva Vibhaag. 24,000 brothers from 549 villages availed the benefit. In the shivir, 143 handicapped brothers were given cycles, 100 were given hearing aids, 249 were given wheel chairs and 75 blind brothers were given 'sahara chhadi'(support stick).736 swayamsevaks from 281 Shakhas worked in this shivir. Due to this many specialist doctors are associated with sevabharati.
Sangh Parichay varg – Haryana Prant:- In the last session in the Haryana Prant 4723 karyakartas received training in the prathmik Sangh shiksha varg. As a result there was an increase in number of Shakhayukta mandals by 30 percent, Shakhayukta bastis by 23 percent, Shakha places by 34 percent and total Shakhas by 33 percent. New brothers who showed inclination to join through JOIN RSS feature were invited for a 5 hour Sangh parichay Karyakram (Sangha introduction programme) "300 minute Sangh ke Nikat" held on 14 December 2014 in which 225 energetic youths participated.
Sahitya Darshan and Book Exhibition with Book Fair, Jalandhar-Punjab: – To introduce the general public to our religious books & scriptures (Dharmagranthas), history, ancient literature and sangha literature, a fair was organized between 16 and 18 January 2015.
Copies of Ved-Puraan, Upanishads Jain Granth, Guru Granth Sahab, Biographies and life stories of saints and great personalities, Sangh literature, novels on social issues and such other literature was available for sale. The presence of many distinguished personalities in the fair proved to be inspirational. Students from 19 schools and 6 colleges participated in this fair. 120 karyakarta strived hard for the success of the programme. Local press and media also cooperated and covered the event well.
College Students' Camp, Uttarakhand :   The College students' camp of the Uttarakhand Prant was conducted on the holy premises of Patanjali Yog Peeth. The students of the shivir were fortunate to be in proximity of Param Pujaneeya Sarsanghachaalak. As a part of preparation, karyakarta prashikshan Baithaks and group discussions on topics related to Akhanda Bharat were organized at different places. Registration was done prior to the commencement of the shivir. 4703 students were registered. 4875 college students, 105 law graduates, 38 research fellows, 93 medical and engineering students attended the shivir. 31 professors also participated in the shivir. 11 Vice-Chancellors of various Universities were present for the meeting graced by Param pujaneeya Sarsanghachaalakji at the shivir.
The concluding function was significantly graced by Pujya Swami Ramdevji. The function was attended by 5300 citizens comprising of men and women. As an effect of the event 98 Shakhas and 179 saaptahik Milan of College students have started in the Prant.
Vibhagwise Ekatrikaran, Merut Prant : Â This year in the Prant Vibhaagwise Ekatrikaran was planned. For this programme 3,677 Gatnayaks were made and 87,116 swayamsevaks were contacted. The Ekatrikaran was held at 6 places which saw an attendance of a total of 52,985 swayamsevaks. In all 3,500 villages were represented.
Yuva Sankalpa Shivir, Braj Prant :   'Yuva Sankalpa Shivir' was organized in Agra from 1-3 November. 3817 shivirarthis from 1064 places from all the districts participated in the shivir. 10 lecturers and 153 teachers were also present. In addition to this nearly 1000 swayamsevaks had come as prabhandhaks. All were fortunate to be with Param Pujya sarsanghachalak ji. Shri Satyanarayan 'Baba Maurya's' natyaageet and the presence of Olympic medal winner Shri Rajyavardhan Singh Rathor and Shri Anand kumarji of super-30 from Patna was especially significant.
A swagat abhinandan programme was organised for the bandhus working with the view of seva jaagran in social life. Shri Ashish Gautamji of 'Divya Prem Seva Mission', Shri Bharat Pathak of Deendayal Shodh Sansthan, Sushri Varsha Gharote of Vanvasi Kalyan Aashram chhatravas ( Hostel), Rudrapur, Gopaalak Shri Ramesh Baba and Director of 'Kalyaan Karoti' Shri Sunil Sharma ji and such karyakartas were felicitated on the occasion.
Uttar Assam Prant: In a special drive, 258 Vistaraks gave 7 days each for the Sangh work. As a result 188 Shakhas were started.
Vishesh Karyakram, Manipur Prant :- As per the itinerary of Param Pujya Sarsanghachalak he arrived at Manipur. During the travel, a baithak of past and present pracharks, inauguration of Prashikshan Kendra (Training Centre) of Ekal vidyalaya, a meeting of full time karyakartas active in various social fields and a meeting of Kshetra sanghatan mantris was convened.
On 7th December 2014 Prant sammelan was organised. The Maharaja of Manipur Shri Laisemba Sanachauba presided over the programme. 7000 people from 400 places were present. 685 Gatnayaks were made for this programme. The success of the sammelan indicates the acceptance of the Sangh work by the society. The program of dialogue with the distinguished personalities of Imphal was also successful.

This year short time vistarak scheme was planned. Total 38 vistarak gave their time. As a result including 18 new places total 38 shakhas were started.

National Scenario :

In the programmes conducted by various forums and organisations the cooperation and participation of the Hindu Samaaj was very inspiring last year.

The participation of the Social, Religious organisations in the 'Hindu Spiritual & Service Fair' organised at Chennai was significant. In this weeklong festival the attendance of school and college students along with the enthusiastic response from the public was indescribable. Nearly 8 lakh people visited the venue during this period. 232 religious and community institutions presented information about their work. From 11-12 Prants karyakartas had come to observe the fair. The pattern of the event was very effective and fascinating. The idea is to hold such fairs in other Prantas of the nation in the coming days. The fair generates the confidence that in the social, educational, spiritual and seva kshetra the role of the Hindu organisations is effective.

On the banks of the river Narmada at Maheshwar in the Malwa Prant 'Ma Narmada Hindu Sangam' was successfully organised in the presence of P. P. Sarsanghachalakji. The participation of the villagers in the 'Dharma Raksha Samiti' formed in every village; the participation of sisters and mothers in the kalash yatras taken out before the programme and establishment of extensive contacts in 5 lakh families in villages was really unprecedented. The presence of nearly 1 lakh 35 thousand brothers & sisters and more than 150 saints in the sangam indicates the acceptance of the Hindu views.

Likewise, programmes such as the Nadi Utsav (River Festival) in Madhyapradesh on the bank of Narmada river, the vanvasi sammelan in Tharu Uttarakhand which have evoked great inspiration deserve special mention.

Effect of Nationalist Views in the Political Field

In the Loksabha elections conducted in May 2014 the people of Bharat have shown their political maturity. In this election people have voted for a stable and well ordered government. This is the first time that the society has expressed its faith by bringing to power a political party inspired by Bharatiya thought & ideology. After many years a team committed to the Bharatiya philosophy is at the centre of decision making. There is a natural expectation that with the cooperation of the policy makers, thinkers and experts and with balanced thinking, time consistent plans should be made and implemented.

Along with the fulfilment of desires and aspirations of the common man the country expects national security, self respect, sovereignty from the newly formed government. There is a need to define the concept of development in the light of the reflections of the great Bharatiya thinkers-sages as well as Bharatiya lifestyle and values. The foremost priority should be on rural life, culture, needs and aspirations of the schedule castes-tribes.

The Bharatiya Philosophy, traditions, moral values and rich culture have always steered and guided the world. The citizens expect the present government to represent the distinguishing features of Bharat on the world platform.

A new Government in the state has been formed after the recently conducted elections in Jammu and Kashmir but in his statement, the Chief Minister of the State, Mufti Muhammad Sayed gave the credit of the peaceful elections to the terrorists, Hurriyat Conference and Pakistan. This statement is undesirable in all respects. The credit of peaceful elections in Jammu-Kashmir should be given only to the peace loving citizens of the state, political parties, the defence and security forces, administrative officers and the election commission.

The reputation of Bharat should rise in this competitive world. It is a challenge that Bharat which has set the example of sustainable development presents itself before the world in the current scenario. It is essential that we extend friendly relations with our neighbouring countries for the peace of the region. We also expect a positive cooperative dialogue from our neighbour countries. Faith is the basis of friendship. The people of Indian Origin, staying abroad in various countries are feeling proud of the role of effective leadership of the present government. The nation expects the government to understand the public expectations, feelings, and sensitivity and work accordingly. The people also understand the limitations of the Government.

The efforts of the government on the issues of Swachhata Abhiyan (Cleanliness Campaign), Ganga Suraksha (Protection of Ganga) are definitely laudable. Only with the cooperation of the public such issues can be resolved. The whole country is welcoming and appreciating all such efforts being taken in the right direction.

The aggrieved antinational forces are making an issue of unnecessary things and trying to pollute the atmosphere of the country. The people of Bharat should remain aware in this context. All nationalist forces should join hands to take the initiative in this direction.

Conclusion : Â Â Today we are experiencing an encouraging response all over the nation. The faith in Sangha karya and Hindutva thinking is increasing. Naturally this is a favourable time for the expansion of our work also. If everything is diligently planned now, then we would experience better results in the near future. Let us move ahead with resolution and determination establishing the impact of our thinking in all walks of life and present the creative power of our society to the world.

/?php if(of_get_option('disable_share') != true) { ?> /?php echo mom_single_share(); ?> /?php } ?>
About The Author
Related posts
Leave a Comment