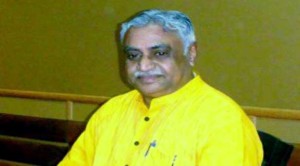 New Delhi. Rashtriya Swayamsevak Sangh congratulated to the scientists of ISRO for their remarkable achievement in making Mars Orbit Mission (MOM) a success in the maiden attempt and the government for its unconditional support and encouragement.
"At this proud moment on behalf of Rashtriya Swayamsevak Sangh (RSS) we would like to extend our hearty congratulations," said Dr. Manmohan Vaidya, Akhil Baratiya Prachar Pramukh of RSS in his press statement.
"By becoming the first country in the world to make it to Martian orbit in the very first attempt, Bharat scripted history. With the success of Mangalyaan, Bharat joins Russia, US and European Union. Mangal Yaan moved a step closer to Mars and made us all proud by becoming the first nation in Asia to reach Mars. A time when the whole world has its focus on Bharat, this great achievement marks another milestone in the path of glory," said Dr. Vaidya.
.