Bengaluru (VSK). Rashtriya Swayamsevak Sangh Karnataka paid tributes to Chandrashekhar Bhandari, veteran RSS pracharak who departed to heaven on 30th October 2022. This tribute gathering of Nudi Namana held in the evening on 10th November 2022, was attended by 100s of karyakartas and close associates of Chandrashekhar Bhandari.
Chandrashekhar Bhandari was born in the year 1935 and he completed his Graduation in Science and Education. After working as Teacher for a short stint, he started his journey as Pracharak in the year 1961. During Emergency in 1975, he was extensively involved in literary activities. He was an eclectic personality being a poet, thinker, author, journalist, researcher, and historian. He headed the Prachar Vibhag of Karnatak South and North in 1994 and in 2012 worked as Akhil Bharatiya Sahitya Parishad Prant Samyojak. He was awarded Best Translator by Kuvempu Bhasha Bharati in 2011 for Samajika Kranti Surya Ambedkar, a well famed Book.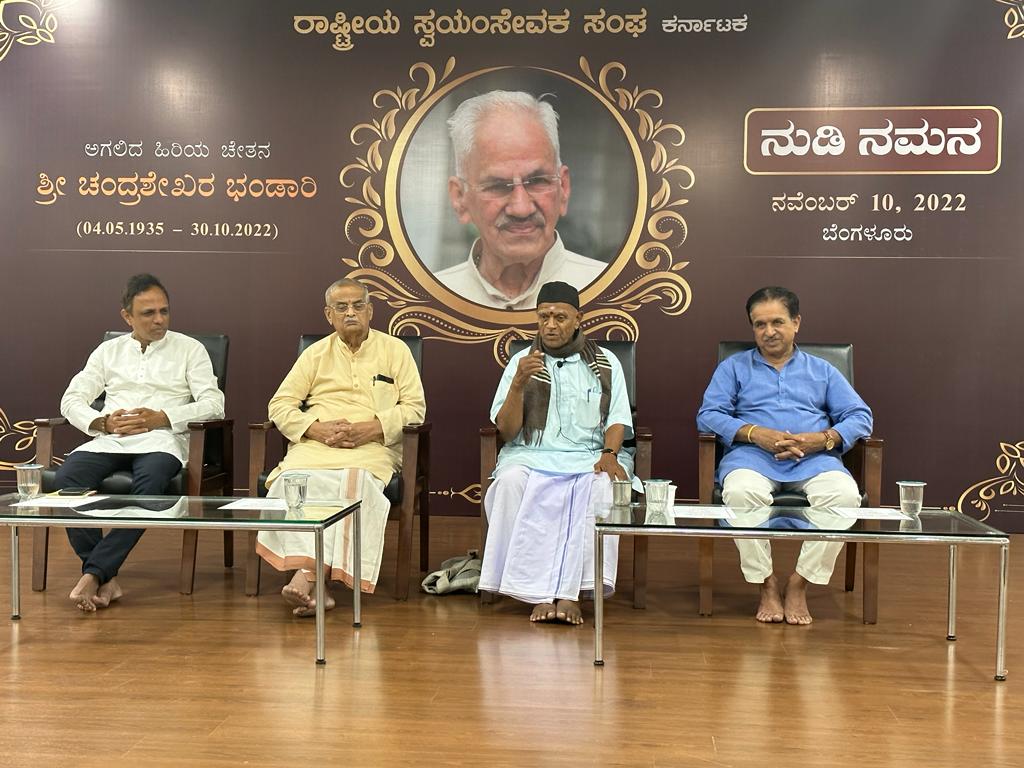 V. Nagaraj, Kshetra Sanghchalak, Dakshin Madhya Kshetra, Su. Ramanna, Senior Pracharak, G. B. Harish, Author & Thinker and Du. Gu. Lakshman, Senior journalist paid their heartfelt tributes in this homage assembly.
V. Nagaraj remembered Chandarashekar Bhandari who was fondly known as Chandru to him. He hailed Chandrashekar Bhandari has highly revered pracharak who will be always role model. Recalling an instance, he said Chandrashekar Bhandari answered "I am a pracharak" for asking why does he wash his clothes even in his 80's, when someone can assist him in these chores.
Sharing the traits of Chandrashekar Bhandari, Kshetra sanghchalak described him as a true Swayamsevak, who was non egoistic and always followed the code of conduct in the sangh, irrespective of his seniority and age. Chandrashekar Bhandari's contribution in expanding sangh work was immense, who frequently travelled and he was always adoptable to any scenario. Acknowledging his efforts in documenting the history of Sangh, noted the quality of internalizing the sangh in Chandrashekar Bhandari himself for the purpose of the society and nation. He was soft-spoken yet firm in his opinion.
He also recalled that "Chandrshekar Bhandari was frequent visitor to mythic society. In the year 2014, during a memorial lecture highlighted the need of Reservation in the society and called upon to create such a society where Dalits themselves will voluntarily give up the reservation."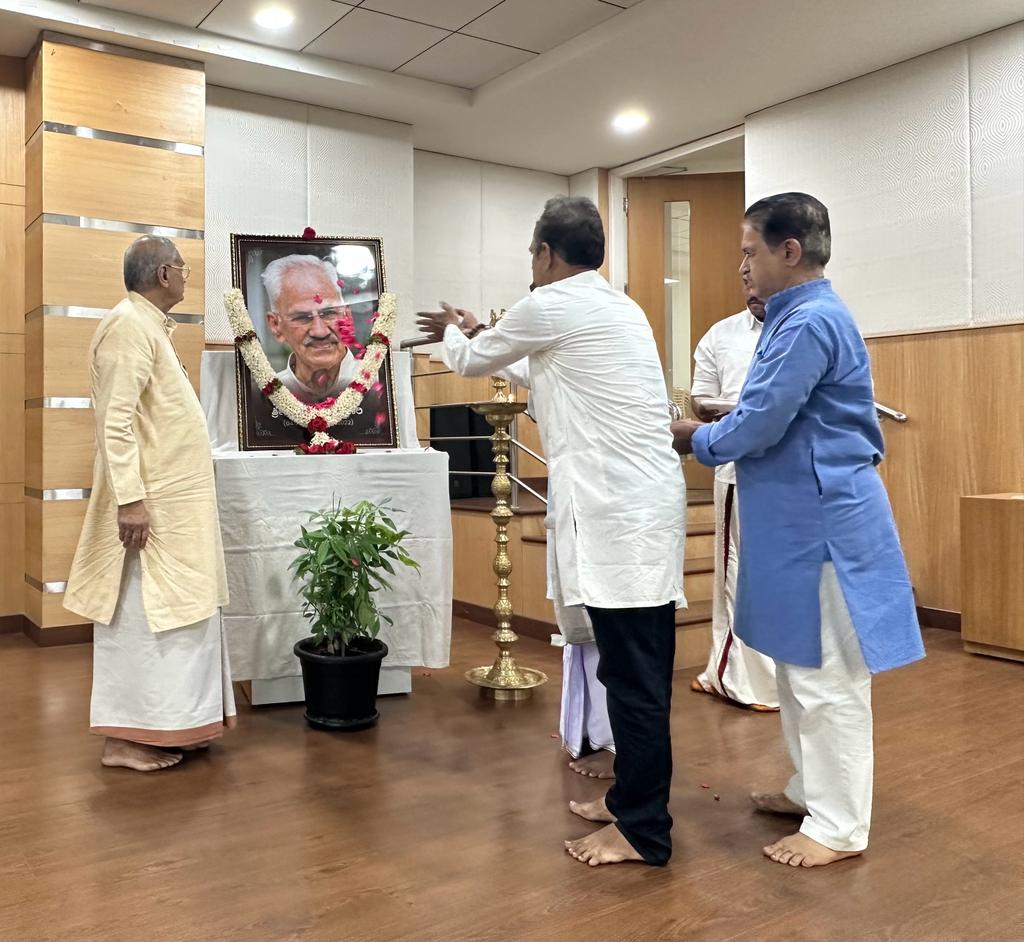 Well known journalist Du. Gu. Lakshman paid tributes by conceding the way Chandrashekar Bhandari inspired the youth of Karnataka and impact made by him through his influential writings. Du. Gu. Lakshman highlighted the awareness Chandrashekar Bhandari had about the importance of documenting the activities and history of sangh. He observed the habit of reading 7-8 newspapers to understand and analyse the happenings in society. Talking about special quality of Chandrashekar Bhandari's immense interest in the etymology of Kannada, Hindi & English words valued his careful research before writing any article to assert no wrong messages are conveyed. For more than 6 decades consistently he wrote articles and extensively involved in intellectual activities in the sangh. Chandrashekar Bhandari was described by the journalist as empathetic, straight forward, and dearest and always open to listening.
G.B. Harish orated as "Basavanna can be called as Bhakti Bhandari Basavanna, Chandrashekar Bhandari can be called as Desha Bhakti Bhandari." Similar to Vo Nguyen of Vietnam who was transformed as a teacher to soldier, RSS has produced such soldiers for service in the various fields of society and one among them was Chandrashekar Bhandari. He reminisced the friendship of Upendra Shenoy and Chandrashekar Bhandari, remembered the intellectual discussion between them about various facets of society and the nation. He reminded the committed contribution of Chandrashekar Bhandari in translation and authoring of various books. Like Chile's poet Neruda, whose poems were widespread and liked by lakhs of people, Chandrashekar Bhandari's poems became omnipresent and liked even by socialists one such was "Dharegavatariside svargada spardhiyu" famous kannada poem which was prevalent in national festivals schools, functions, ceremonies, etc. He concluded his words by recalling the hospitality Chandrshekar Bhandari extended to everyone who visits him shows the down to earth trait.
Senior Pracharak, Su. Ramanna addressed the gathering by asserting this Nudi Namana is not an end and this is not only Nudi Namana but also Kruti Namana. This is how the legacy of RSS is carried out from years. He recalled the pledge taken by VA Gopal in a homage meet held in the year 1968 for Pt. Deen Dayal Upadhyay. Ramanna defined Chandrashekar Bhandari as Ever-lasting lamp and Silent sage who dedicated himself to the cause of the society and nation, sangh provided so many such silent sages. He called upon to remember and inspire from such ever-lasting lamps on the occasion of Centenary of RSS and hence termed tribute as Kruti Namana. He pronounced RSS is an organisation with no personification aspiration or institutional ambition. Such legacy was established by Dr. Hedgewar ji in 1925. Further asserted sangh is not an organisation or institution but a Cultural movement. He recalled a book release ceremony held in Chamarajnagar quoting Kollegala MLA Mahesh's opinion on sangh. Dalit activist Mahesh after coming in contact with RSS understood the non-political nature of sangh and adorned the ideological commitment, non-personified, life-style, financial discipline of pracharaks & karyakartas of RSS. Su. Ramanna added RSS is of all-inclusive in nature and not exclusive. He called upon to carry forward legacy of many silent sages like Chandrashekar Bhandari and to take pledge like VA Gopal took in Pt. Deen Dayal's tribute, that Chandrashekar Bhandari's dutifulness, sacrifice, commitment will be inculcated within all of us and be a Swayamsevak showing path in the society. He asked the gathering to repeat sentences of senior pracharak shared once in Pt. Deen Dayal Upadhyay's homage ceremony about the legacy of RSS which can be translated to English as "What if the body is destroyed today, the lamp of hope will continue to burn; the new generation will come forward and pour the oil to this lamp".
'Nudi Namana' Tirbute by Dattatreya Hosabale, Sarakaryavah, was read in the gathering as given below. In his tribute he said, "Chandrashekar Bhandari is one of the jewels of sangh's pracharak legacy. For the cause of nation, he improved personality and dutifulness on his own and scrubbed them on the white stone of sangh like sandal and dedicated it in the worship of the motherland. He experienced happiness in this great work. He became guiding light and role model to all. He was simple in life, highly intellectual, non-egoistic, and highly competent in sangh karya in his unique way. He has left us a matchless legacy. He was a devoted and allegiant pracharak with multifaceted personality as a poet, author, sportsman who was ever-ready and is life of learning. Always hard work and life of non-compromising and unwavering ideological commitment. Witness of sangh journey in Karnataka though joins history now, he is always immortal. His inspiration is ever-lasting lamp and let this lamp show the light to us. May his atma attain Sadhgathi. Om Shanti."
The tribute meet ended by observing silence for a minute and reciting of shanti mantra.