'Recapturing the Vision called Bharat' released
Prajna Pravah National Convener J. Nandakumar Ji said that RSS is the largest open university in the world. He said there is a need to recapture the vision of Bharat, which is unique and universal. Quoting Swami Vivekananda, he said we need to delve deep into the past to shape our future.
Mentioning Prime Minister Narendra Modi's Independence speech where he introduced another slogan of Jai Anusandhan, he said research was part of Indian scheme of things.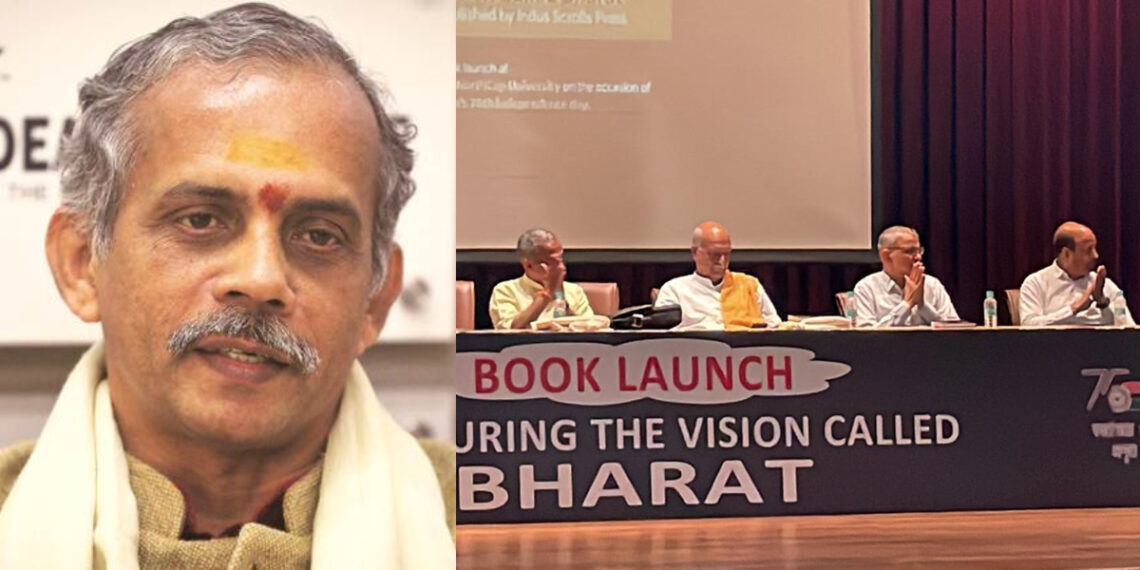 He was addressing a gathering after releasing the book, Recapturing the Vision called Bharat, written by Karan Kataria, at The NorthCap University, Gurugram on August 15.
As the country celebrates Amrit Mahotsav, 'Recapturing the Vision called Bharat', a book written by Karan Kataria, was released at Gurugram in the national capital. Eminent personalities including academicians, writers and intellectuals participated in the grand event held at NorthCap University.
Bharat means – 'that revels in knowledge'. Bharat used to be the repository of all kinds of knowledge systems in ancient times. Our ancient scientists- Rishis-used their knowledge for the welfare of the humanity and never utilized it for self-aggrandizement or to satiate their greed. As Bharat aspires to rebuild a nation confident in itself. capable of playing its civilizational role among the comity of nations and emerge as a knowledge economy, it is important that we learn and teach about our past and achievements. The book is a humble attempt at throwing light on that 'vision called Bharat'.
J. Nandakumar, National Convenor of Prajna Pravah. Ashok Kumar Beri, Devi Chitralekha, Dr. K C Banger, Dr. Nupur Prakash, Avdhesh Mishra, Dr. Dinesh Kumar, Dr. Archana Sarma, Dr. Manjula Batra, Apara Ery and G Sreedathan were present during the event. Indus Scrolls MD G Sreedathan congratulated the author. Speakers hailed the young author for his effort.