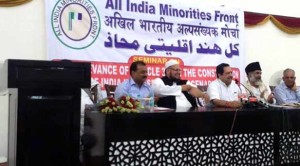 New Delhi. Rashtriya Swayamsevak Sangh (RSS) leader Indresh Kumar on Monday demanded a debate in the country, including in Jammu and Kashmir, on Article 370.
Indresh Kumar was addressing a seminar on Relevance of Article 370 in India's Constitution and present situation. The seminar was organized by All India Minorities Front, at the Constitution Club here on Aug. 25.
"There should be a debate in India and in the state of Jammu and Kashmir about Article 370 whether it is beneficial for us or not. If there are some good things because of it, the people should speak and also if there are some issues because of it that should also come into the light. Till now, the pros and cons of Article 370 have not been discussed," Kumar said.
"The people of this country and the state should think on the issues of separate flag, separate citizenship and separate Constitution which are the symbols of disunity and disintegration. Once these three issues are done away with, this will give rise to industrialisation, education and improvement in the healthcare, which will see a rush of investment," he added.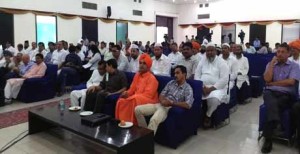 According to reports, Minister of State in Prime Minister's Office (PMO) Jitendra Singh had earlier sparked off a controversy with his remark that the government was open for a debate on Article 370.
(source: newsbharati.com)