Chennai. RSS traditional Sankranti function of Chennai was held on the sea shore of Foreshore Estate on 15th January, 2015 along with the fishermen families. Swayamsevaks exactly at the stroke of sunrise, at 6.35 a.m. performed 13 suryanamaskars with mantra.
Samudra Pooja was also performed and Arti was given to Samudra Raja with a prayer for the welfare of the world. Bhagwa Dwaja was hoisted inside the Kali temple.
Shri Tarun Vijay, who spoke on the occasion, won the hearts of Mullikuppam area people with his passion towards Thirukkural and Thiruvalluvar.   He delved around the great saints and rishis who lived in our country and compared them with valluvar.  He said this function of spending an early morning of Makara Sankranti with fishermen folk and swayamsevaks and beginning the day by addressing an inspired Hindu gathering was an unforgettable one.  His quote on Swami vivekananda sayings of respecting Dalits for having staying in Hinduism despite discrimination touched many.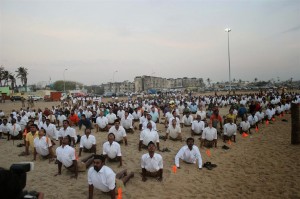 "Standing on the shores of Ganga Saagar looking at the Himalayas, I mean the sounds of 'Namaskaram' from Ganga Sagar listening to Vanakam from North India, this is the real Sankranti call for all of us.  This shows India is one, eventhough we speak different languages, different legacies, culture, literature, men and women.  Tamilnadu has shown great legacy and heritage to the world.  Nobody could have believed when others were tired with fighting with each other, there were crusades, jihads, hatred, intolerance—you were the people who gave Tirukkural before 2000 years before. The first dam was built here.  We were the first to have the Thiruvalluvar, Nayanmaars, Alwars, Subramania bharati, Rajendra Chola, Ramunaja, Andal in our prartha smarami.  This is our legacy.
Our India is Samagra India with the full of love, compassion, believer in the Unity in diversity. If it all democratic, it is only Hindu majority which believes whichever path and faith followed will attain God.  This is the message of Sankranti."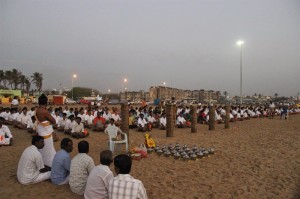 Prant Pracharak Shri Bakthan Ji gave a brief on Shri Tarun Vijay's tour in Tamilnadu with the concept of 'Nationalism and Tamilnadu'.
A book 'Uyara uyara paranthida' written by Prant Karyavah Kumaraswamy and 'Cholapurathu Mannan Rajendra Chola, Thiripurasuraththu Pillaiyyum' by Desiya Chinthanai Kazhagam were released by Shri Tarun Vijay.
Community leaders from chettair community – Arunachala chettair, President, vice president Vaitheeswaran, secretary Ramalingam, fishermen community and other communities participated in the function.  Samudhaya Pongal prepared by fishermen community and others were offered to God and distributed to the swayamsevaks and others as Prasadam.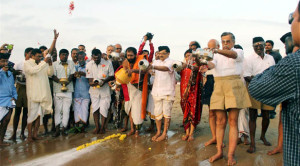 Shri Sethu Madhavan, Akhil Bharatiya Sadasya, Shri Bakthavatsalam Prant Prachark, Shri Sambamurthy Sah Pranth Karyavah, Shri P M Ravikumar, Sah Prant Pracharak, Shri Durai Shankar Vibhag Sanghachalak and other Pranth Adhikaris participated in the function. Around 1515 swayamsevaks including 163 Balas and 20 women participated in the function.  Sweet Pongal prepared by the women folk of fishermen community was distributed as Prasadam to all those who were present.
(Source: VSK Chennai)